Another one bites the dust: Bauer's departure from NHS England highlights public sector-wide issue
NHS England's chief digital officer (CDO) jumping ship to join the private sector is the latest example of one of the key issues facing digital and technology projects across the public sector, namely staff retention.
The news that NHS England's CDO Juliet Bauer is leaving the health service to take up a global role with Online GP consultation provider Livi may have come as a surprise, but it wasn't entirely unexpected.
Ever since she joined the NHS a few years ago, Bauer has been an extraordinary force for good. First in her role as director of patient experience, and later as CDO, she has been instrumental in getting projects like the NHS App, Citizen ID and other patient facing services off the ground.
Candid and honest, she never fell into the public sector project management trap of pretending like "everything is awesome", and part of the reason behind the success of the projects she spearheaded, was that she did not shy away from being open and honest about the difficulties and mistakes made on the journey.
Her approach to projects has been very similar to another former NHS chief who held several high profile roles across the digital agenda over the years, namely Beverley Bryant. Like Bauer, Bryant also jumped ship, joining supplier System C in the summer of 2017.
Staff retention issue
Their departures are only two examples of great men and women who hang up their public sector boots for new opportunities in the private sector. While great for them, it's not so great for the NHS. Now, difficulty in retaining staff is not only an issue faced by the NHS and the rest of the public sector, but its impact brings huge challenges.
Looking at failed government or NHS IT projects over the years, they usually have several common features, but one stands out in this context: Numerous changes in leadership throughout the project lifecycle. It shows up again and again. Although not specifically NHS focused, but a National Audit Office report published in 2016, found that out of 73 government transformation programmes, only four had the same senior responsible officer throughout the project's lifetime.
The NHS is embarking on the biggest ever transformation programme in the history of the health service. Work is already underway, and has been for some time, but the NHS Long Term Plan is seen as the beginning of a new era. It's an ambitious plan, but already faces many uphill battles, and will certainly require consistent leadership and drive if it is to succeed.
The question is whether the right people will stay around for long enough to see it through. The NHS certainly doesn't need to be holding out for a hero- there are plenty of them already on the ground, working tirelessly every day, but unless the NHS Long Term Plan wants to join the ranks of failed government IT projects, it does need to ensure it manages to keep them.
Content Continues Below

Download this free guide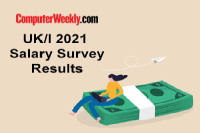 2021 UKI Salary Survey - Pandemic Infographic
We take a look at our 2021 Salary Survey results from over 300 respondents who work in the UKI IT sector. We will be breaking down which job functions get paid what, what areas of IT companies will be investing in in 2021, the current diversity landscape residing in the UK tech sector and how the pandemic has effected IT staff.