Sharing patient records - Whitehall consults
NHS Connecting for Health begins a public consultation today on the extent to which medical details given by patients to GPs, clinics and hospitals should be shared with healthcare researchers and others.

Download this free guide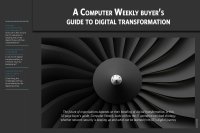 Computer Weekly's buyer's guide to digital transformation
Download this 14 page buyer's guide to discover how the IT operation can lead strategy, whether network security is keeping up and what can be learned from GE's digital journey.
The consultation is likely to highlight the divide between those who want more open sharing of medical records, in the interests of research into identifying the most effective treatments and the best hospitals, and those who want patient information kept as confidential as possible.
NHS Connecting for Health, which is part of the Department of Health, is seeking views on the use of patient records for "secondary" purposes. This refers in part to the passing of patient records to researchers in an anonymous or semi-anonymous form. The Secondary Uses Service [SUS], holds details of almost all visits by patients to hospitals and GPs.
The SUS is run by BT under the NHS's National Programme for IT [NPfIT]. It's unclear to health officials how much information on the SUS should be shared inside and outside the NHS, for example with council social services departments and researchers.
NHS Connecting for Health is also consulting on the wider use of the NHS Care Records Service – which includes plans to give 50 million people in England an electronic medical record.
NHS Connecting for Health says that the Care Records Service "offers new opportunities, with the electronic collection of clinical and patient data". But the Care Records Service also presents new risks: there is evidence that some healthcare staff who are using the Care Records Service are sharing smartcards to avoid logging in and out of applications. This leaves no clear audit trail on who has viewed confidential patient information.
NHS Connecting for Health says in the announcement of the consultation:
"The public and healthcare professionals are being encouraged to have their say on the use of patient information for research purposes as well as managing and planning care.
"The sharing of patient information can help improve the well-being of the population through medical research, disease surveillance, screening, needs assessment and preventative activities.
"The 12 week consultation, launched today, Wednesday September 17th, by NHS Connecting for Health, will give patients and the public the opportunity to input into the way the NHS uses their health information for these purposes and will explain the benefits, legal safeguards and practical steps available to meet confidentiality and ethical obligations.
– Who should have access to patient data?
– For what additional or secondary uses should data be used other than direct care?
– What process should govern access when individual patients can or cannot be identified?
– Who should control and manage access to the information?
– What consent options and safeguards should there be for patients?
– What concerns do people have about secondary uses and how can they best be addressed?"
The NHS Connecting for Health announcement continues:
"Whilst the NHS has always used patient information for planning and research purposes, the advent of new technology with the NHS Care Records Service offers new opportunities, with the electronic collection of clinical and patient data. The public consultation covers the use of patient information for uses such as:
– Research into prevention and treatment of diseases
– Improving public health
– Managing and planning future health services
– Health planning screening
– Quality control, clinical audit
Professor Sir Alex Markham, Professor of Medicine at the University of Leeds and Chair for the Research Capability Programme, said: "Health Research can potentially bring huge benefits for patients, improving the public's health and increasing our understanding and management of disease.
"With new Information Technology in the NHS there are new opportunities for the health research community to carry out their research more effectively, which will benefit us all.
"It is vitally important that patients and the public understand how their health information might be useful and feel confident that their confidentiality will be protected.
"Our conversations with patients suggest that the vast majority of them are willing to participate in medical research. It is essential that those who do not wish to do so have their wishes fully respected. This public consultation will give patients and the public the chance to input into this process."
GP Paul Thornton has made a study of the legality of the passing of patient records into the hands of government. He has questioned the lawfulness of government proposals, under the NPfIT, to pass on confidential patient data to those who may not be directly involved in the care or treatment of the patient – and without the patient's consent.
He points to a recent judgement by the European Court of Human Rights which found that healthcare staff who are not involved in the care of a patient must be unable to access that patient's electronic medical record. The court's ruling was not about the taking of disciplinary action after a breach of confidentiality but stopping an incident happening in the first place. The court said: "What is required in this connection is practical and effective protection to exclude any possibility of unauthorised access occurring in the first place."
Links:
Secondary Uses Service – NHS CfH website
Access to NHS Care Records may be widened – E-Health insider
Smartcard sharing by an NHS Trust – IT Projects blog, January 2007
Sir Bobby Robson's e-health records viewed illicitly by NHS staff – IT Projects Blog, Sept 2007