Pull out and keep our guide to UK gov IT failures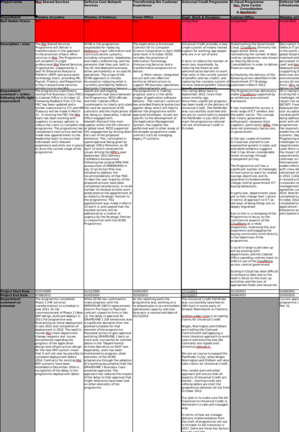 The UK Major Projects Authority made a pigeon-step in the cause of transparency and accountability with the publication of its traffic-light ratings of government projects last week.
You had to trawl through 191 briefs spread over 19 separate spreadsheets to get the lowdown on the just the IT projects you wanted to know about.
So we've done it for you. And we've tarted it up a little so you can actually digest the information without flatlining.
You will find in this Libre Office Spreadsheet details of all 49 major UK government IT projects on the MPA hit-list, badged with their traffic-light ratings so you can see quickly what's what and what's not.
You may also be interested to see what the Cabinet Office has left out of its first annual MPA report.
The MPA had published a red-amber-green traffic light assessment of each project. But it withheld the actual assessments. It did not even publish a justification of its traffic light decisions.
What's what
What it did publish were responses it got from each of 19 government departments subject to its review. It seems they got to see the assessment. And then they got to draught some public relations fluff and that's what got put into the Major Projects Authority report.
It is a bit like when the National Audit Office asses a government project, and the department get to vet it and insert their own story. They would call it fact checking or balance or something. You get an independent assessment leavened with departmental flim-flam.
Yet with the Cabinet Office's independent assessments of Major Projects, you don't even get the independent assessment. It's just a traffic light and a bit of departmental flim-flam.
This is however progress. It is what the Cabinet Office calls transparency. The Guardian reported that the MPA had trouble getting departments to co-operate with its assessments. We are encouraged to imagine the MPA fighting valiantly against vested interests. This may be true.
But the Cabinet Office has an agenda that is manifest in the name of its scrutiny body: it is interested only in major projects. It's declared interest is to break those projects up. Once that work is done there will be little or no public scrutiny. Not in the name of financial efficiency. Nor, as will be increasingly important for government IT, in the name of civil liberties.
We have to wonder what would happen were the Cabinet Office to discover that each and every major project instigated by the government since its election in 2010 was so far up the swanny that it needed a red light flashed up pronto.
What's not
The report, as collated here, does at least provide a snap-shot of most (though actually not all) major government IT projects.
There are 49 IT projects listed, on which more than £41bn of public money is being spent.
As it happens, most of the government's IT projects are doing quite well, according to the Cabinet Office.
It counted three abject failures – projects it thinks have little hope of ever succeeding. There were 9 in serious trouble that it flagged red/amber for urgent action. There were 19 amber projects, 10 amber/green, 6 green, while 2 were classified.
Official secrecy stopped a lot of even this scant report getting out.
Budget information had been withheld from 7 projects – almost all of them by the Home Office.
The Home Office withheld budgets and other information in even this scant assessment of the Communications Capabilities Development programme, otherwise known as the system behind the snooper's charter.
Likewise, the Home Office withheld budget and other information from: its Police ICT Company Programme; eBorders; its Prism and Firecrest renewals of major contracts with Capgemini, HP, Microsoft and Oracle; its Next Generation Outsourced Visa Services Contract; and Emergency Services Mobile Communications Programme (ESMCP), the high-tech and no doubt biometrically-endowed replacement to Airwave.
The Home Office must think it's too cool for school.
The other major project without a published budget is the Department of Defence's extraordinary End Crypto Units (ECU).
Other projects where we get to see budgets but departments declined to publish even flim-flam included the Cabinet Office's own G-Cloud Programme, which its own (unpublished) assessment found was at serious risk of failure.
Similarly, the Serious and Organised Crime Agency withheld information about its floundering Information Systems and Operating Technology (ISOT) Programme. Much of the rest of the assessments are scant or missing.
The spreadsheet does nevertheless contain some revelations.
You may find you can aid viewing of this spreadsheet of spreadsheets by adjusting the zoom to about 50 or 75 per cent. And it may need to adjust the row height of those spreadsheet cells that contain the departmental flim-flam. Some of it is actually reasonably lengthy.