Profit lures London councils into IT sales venture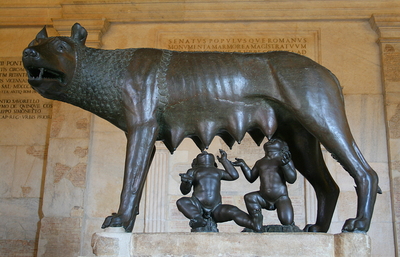 Two London councils have embarked on a scheme to sell IT services for profit after concluding their cost-saving backoffice merger could grab them a big slice of the £144bn local government market.
Giving their project the code-name Romulus, after the rapacious founder of the ancient City of Rome, the London Borough Councils of Havering and Newham drew up a plan to compete for back office business in the health, education, police and charity sectors as well.
Now they are looking at plans to spin Romulus off to compete in the private sector, an idea that has sent them goggle-eyed over the chance of making even more lucre, and bringing it back to the people of East London like sacks of pre-historic booty from raids on neighbouring tribes.
Havering and Newham adapted their public ethos to the profit motive with gusto, choosing for Romulus the business model that could make the most profit.
They had a few options on the table, including good old fashioned public service. But they stacked the odds in favour of what would bag them the biggest wad.
Their Full Business Case said in December they had ruled out simply outsourcing their backoffices because they wanted to keep the fees for themselves. Why pay an outsourcer a commission to do the work when you can do it yourself?
But that was not all. It was not just a do-it-yourself decision. They had not merely decided not to outsource. They had decided to go into the outsourcing game themselves. Now government rule changes have allowed public bodies to start getting some of those outsourcing fees for themselves, well why don't they just do that then?

Mine
The same profit motive also made them rule rule out merging their backoffices with other groups of councils that may have already done the hard work. Because that would mean paying commission to some other group. They wanted to be the ones earning the commission.
Government funding cuts left them no choice: find a way to earn profit from other public bodies or cut essential services to people in the nascent principality of Havering and Newham.
It is each man and woman for himself in the meantime, as one public sector managing director told backoffice staff recently, after their attempt to compete like a private company failed. Staff had been through the mangle for years already. Their loyalty to the public ethos is what kept them going through the quasi-privatization, bizarrely. But now they're being out-competed, broken up, repackaged, rewarmed, sold off, palmed off, to be put through the mangle again to see if there's any more die still to come out. At some point, perhaps in some generation down the line, they will find a job tenure secure enough to invest belief in their work again. But someone else whose profession was downsized by technology recently told your correspondent the workplace had become a place of fear. People used to have fun and some degree of autonomy. There are now a fraction of the people doing the job. They are time-and-motioned to within an inch of their lives. And the management made it clear they are looking for any excuse to sack anyone because they want to cut some more.
Back in Havering and Newham, where Romulus launched as OneSource this month, the profit question is a matter of ongoing debate, as though they are not quite prepared to face it yet, or to stick their necks out.
The business case made it clear. The plan was to generate profits (the word it uses often is "income" – the American word for profit – though Romulus means sales, while it sometimes says "savings" when it means profits). But Romulus has not yet launched a vehicle to carry the profit.
Tony Huff, who wrote the Romulus business case as OneSource business services director, said the councils had not decided what they would do with the income they generated, or profits they made, or savings they made, or whatever you would call it.
"Contributions to overheads is what we would call it," said Huff.
This could come from persuading other councils to join their partnership, like they ruled out joining anybody else's. Or it could come from the sale of backoffice services to other councils, or to other public bodies, and so on.
Look at it like this though. You are in the business of selling something. Say you generate more money from your sales than it cost you to run your business. What do you call that? You call it profit, don't you? That's the dictionary definition. These councils have not even decided what to call it, let alone what to do with the money when they get it.
That though, said Huff, was an aim of the joint committee the councils set up to run the venture in the meantime – to decide what to do with all the money.
"We have been asked to go away and look at how we might deal with new business," he said.
The most likely option, according to the Business Case, is launching a private company. Romulus will have to do that if it pursues its aim of selling to other public bodies, and charities, and private companies. It's a legal requirement under the coalition government rules that have made it possible for councils to get in the outsourcing game. The business case said they could sell to other councils without any restriction. But they had to form a private company if they wanted to make profits by selling to anyone else.
Mine
If Romulus doesn't launch a private company, it is easy to imagine a time when some other once-public backoffice from some other group of councils, or some HE College or NHS Commissioning Support Unit or police service spin-off, has become so big and successful that Havering and Newham can't justify doing their own any more. So they are damned if they don't. And if they do, they could still crash and burn amidst the Titanic clash of backoffice spin-offs that will surely commence with much blood-letting as public sector bodies up and down the country try to get on the profit-making game as well.
For now, said Huff, their main driver is making savings for Havering and Newham. The business plan is to make the savings and develop the business model, then bring in sales.
Savings means consolidation, means staff cuts, means automation of council services using web apps.
Geoff Connell, OneSource CIO, told Computer Weekly Havering and Newham had saved £10m per annum by getting 50 per cent of their citizen contacts online. Most of the savings had come from job cuts of people who used to deliver the services in person. Connell had the saving on the tip of his tongue. He didn't have the number of redundancies to hand. Coalition estimates have it at an average 78 per cent job cuts.
Redundancies will account for half OneSource's set up costs this year, three quarters next year, and £2.6m in total by April 2019, according to the Business Case. A quarter of the rest this year, and half of the rest next year will be the cost of developing Oracle software applications to run the back office services it has not yet designed: asset management, FOI, risk management and forecasting, and time costing.
The proprietary One Oracle platform, which Havering and Newham developed in conjunction with seven other councils, will form the heart of its sales business operation: back office processes such as finance and human resources. Connell said last week it also had sales of self-service apps on the cards as well, driven by a proprietary Microsoft system.
Mine
By choosing proprietary software systems over the open source software ve ntures Newham and other councils had toyed with in the past, it has protected its commercial interests. That is, the act of choosing Oracle puts Romulus' ventures in its own private interests, rather than the public interest. That should ultimately help clear up any confusion about terminology, and where this profit motive fits in the public ethos.
The public ethos resonates in the voices and publications of Romulus executives like a prideful vein of self-denial. Connell and Huff seem like the nicest young men who ever privatized a back-office. They have the citizens of Havering and Newham at heart. Maybe not the citizens of Barking. And maybe not the citizens of Bangladesh. But Havering and Newham are going to be all right.
Because Romulus has its eye on the prize.
"Local government is worth £144bn each year," said the business case. "This offers a great opportunity for this Programme in terms of business growth."
That's Romulus, son of Mars, the God of War, and the daughter of a deposed King: outcast, raised by a she-wolf, murderer of his brother, rapacious warlord, snatcher of women, violent oppressor, founder of Rome. What a start in life.