Privatization by software starts with Her Majesty's Revenue & Customs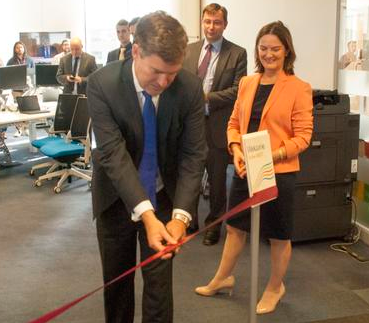 HMRC's plan to dissolve its core operations and have them reproduced as standard features of common business software will hollow out one of the largest departments of state and could lead to 80 per cent of 57,000 staff being made redundant.
The unheralded plan, outlined in HM Revenue and Customs "API Strategy" last week, goes further even than the last coalition government imagined in its 2012 Digital Strategy, which proposed automating 80 per cent of government jobs by having software programs do the work instead of people. Government jobs won't just be automated by government software. They'll become banal features of common business software. Back-office central government jobs will, with the computer systems they use to do their jobs, become back-end processing in accounting software produced by the likes of Sage.
HMRC's API Strategy showed how digital privatization would cut HMRC back office work about 80 per cent. It said this would benefit HMRC by reducing its back office costs. But it did not spell out how.
The way digitization would cut costs was spelt out in an aside Cabinet Office wrote into its 2012 Digital Strategy: it would reduce employment costs by about 78 per cent, including the cost of buildings to house them and computer systems to help them do their work.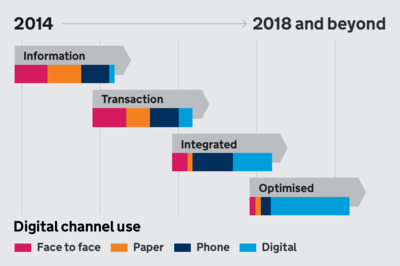 HMRC's API strategy illustrated this by way of a Fischer Price diagram that showed almost a third of its dealings with the public were being conducted through each of three conventional channels: face-to-face, paper, and telephone. By 2018, third party software would be doing 80 per cent of this work.
Promo
But the API Strategy was little more than a promotional brochure to introduce business software developers to their new role at the vanguard of the government's privatization programme.
For the real-world effect of digitization, you have to dig the numbers out of the publications HMRC is required by law to produce for adults.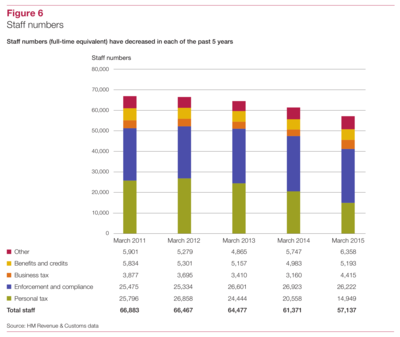 HMRC cut about 11,000 staff from its personal tax department between 2011 and 2015, according to National Audit Office commentary on HMRC's annual accounts. This coincided with an increase the in the number of people filing their tax returns using HMRC's online self-service, from 78 per cent in 2011 to 86 per cent this year.
Its staff levels otherwise stayed roughly unchanged in all other areas (click to enlarge chart). Staff processing benefits and credits declined by 641 between 2011 and 2015. But those processing business tax went up by 538, enforcement and compliance were up by 747 people, and in other areas by 457.
Personal tax staff accounted for almost 40 per cent of HMRC's employment roll in 2011. Their numbers were cut almost two thirds. The API strategy would now automate work done in enforcement and compliance: the other single largest area of employment in HMRC, which with 26,222 people last year accounted for another 46 per cent of all HMRC staff.
Redundant
HMRC's own 2012 Digital Strategy, produced under orders from the Cabinet Office's Government Digital Service, skirted the question of jobs, though it promised to build "digital services" – mobile phone and website apps through which people could use public services instead of telephoning a call centre or walking in to a tax office.
HMRC would make "digital" mobile phone apps the "channel of choice", as opposed to the telephone and walk-in "channels" it typically used when dealing with people, said its 2012 strategy.
Things have evolved since then. HMRC will now make third party software the first choice, it said in its API strategy. It would do so by allowing business software developers to re-use the organisational logic it had already rendered in its own software systems. They would get at it through its software interfaces – its application programming interfaces (APIs) – which it would beef up for the purpose.
Whereas before – as far as HMRC was concerned and, on the face of it, as far as the Cabinet Office Digital Strategy was concerned – first choice was self-service "digital" apps, built and operated by the public bodies themselves.
And yet still, there seems little public acknowledgement of the fact that the government's Digital Strategy has effectively been a programme of privatization by software.
Privatization
The API strategy portrayed this as inevitable. It s aid third party software was already the channel of choice for business tax payers. By allowing those software suppliers to take over its own functions, it was just giving people what they wanted, and meeting its own austerity targets by cutting its own costs as well.
This contrasted with the US, where the Inland Revenue Service never built its own digital services in the first place. Business software suppliers lobbied the IRS not to build them. After the world started migrating from paper to digital in the 80s and 90s, the IRS would consequently give up those roles previously only performed by its own staff. The software companies took over. The IRS compensated people on low incomes by forming an alliance with business software suppliers to do their services free of charge.
HMRC's primary justification for its API Strategy was the boom it would be for tax software suppliers. It would still maintain its own digital services for individuals and "micro-businesses" – those whose resources and needs were too small to justify the expenditure on accounting software. But HMRC would henceforward treat its own software developers no more favourably than any private-sector supplier. Its APIs, which are literally interfaces between one software system and another, would treat all comers as equal.
Denial
An HMRC spokesman denied the API Strategy depicted how digitization would lead to redundancies. It showed only how fewer people would need to use its conventional channels of face-to-face, post and telephone.
"The diagram demonstrates the digital choices we believe will be made by individuals and businesses," he said. "It does not represent the volumes of transactions we might receive during that time."
But he said in a written statement: "Digitisation will change how we work in HMRC, automating many processes that are currently done manually. This will reduce the need for some roles and create new roles, with new skills and new flexible ways of working.
"Our digital strategy stated that we would see a change in the way that we work, as I imagine any organisation would over time," said the spokesman.
But it could not be assumed the API Strategy would lead to 80 per cent job cuts in keeping with the Cabinet Office Digital Strategy, he said. He would not say what HMRC staff would be doing instead when they were no longer needed to answer telephones and collect the post.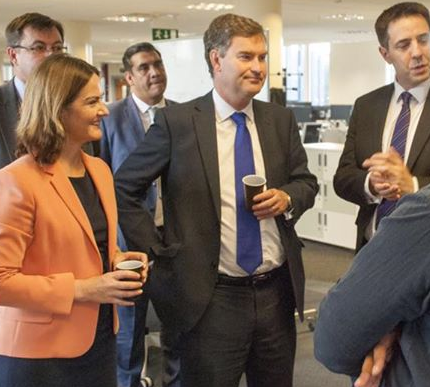 Such questions would be answered at a conference HMRC held with business software developers yesterday, he said. Press were uninvited.
Select members of the press were invited however, to witness a stunt David Gauke, financial secretary to the Treasury, staged on the day HMRC published its API Strategy. He officially opened a digital services centre employing 200 people in Telford.
The headlines declared how HMRC was creating jobs around its API strategy.