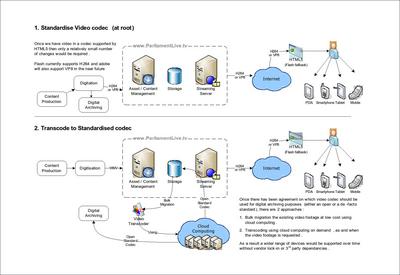 Diagram produced by The Parliamentary Information Communication and Technology (PICT) office and published in its July 2010 Report, Final Options and Recommendations for the Broadcast Improvement Plan – a scheme to improve the publication of Hansard data on the web by making greater use of its multimedia recordings.
The diagram (click on image to enlarge) describes two scenarios for embedding indexed multimedia recordings of Parliamentary proceedings in text transcripts published on Hansard's web pages.
It was envisaged that once PICT had developed a Hansard API that could deliver video into web pages, it could make the facility available to anyone who wanted to embed recordings of Parliamentary proceedings into their blogs or wotnot.
One of the project's over-riding objectives was: "To improve access to Parliamentary content by using open standards to achieve maximum possible audience reach, both today and in the future."
The second of the options shown in the diagram shows
PICT's recommended Hansard Improvement Plan
. The mass transfer of Hansard data into a cloud repository would provide an opportunity to do a bulk transcoding at the same time. The transcoding would convert Hansard's data from proprietary multimedia formats over which there were inherent usage restrictions that contravened its "maximum possible audience" aim. It would encase them with open standards.
PICT provided a definition of Transcoding in its feasibility study for the Improvement Plan: "This is usually done to incompatible or obsolete data in order to convert it into a more suitable format."
View full-sized image.