Godfather of code-breaking leaves legacy of make do and mend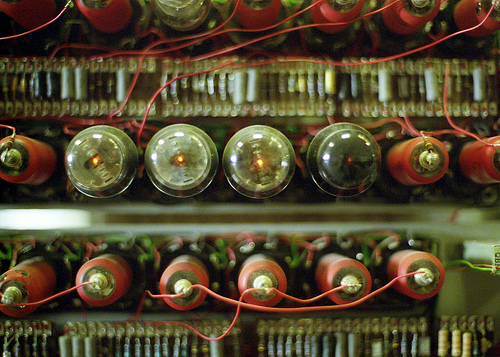 Tony Sale started rebuilding the Colossus computer using his and his wife Margaret's own savings in 1994. It is said no-one believed it was possible.

Download this free guide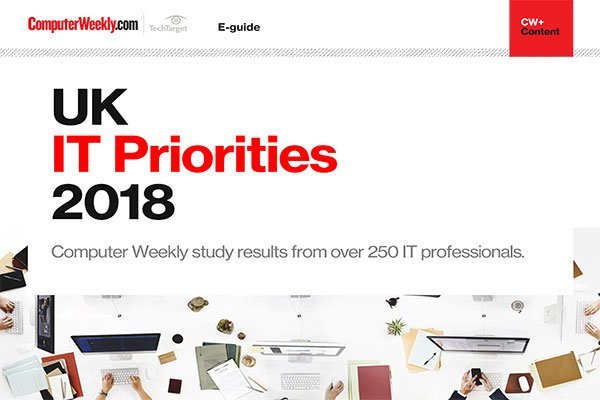 UK IT Priorities 2018 survey results
Download this e-guide to discover the results of our 2018 UK IT Priorities survey, where IT leaders shared with us what they are going to be investing in over the coming 12 months.
By submitting your personal information, you agree that TechTarget and its partners may contact you regarding relevant content, products and special offers.
You also agree that your personal information may be transferred and processed in the United States, and that you have read and agree to the Terms of Use and the Privacy Policy.
Just as no-one had believed Tommy Flowers when in 1943 he proposed it, the world's first programmable electronic computer, as a way to automate work being done by the Bletchley Park mathematicians to break the encrypted messages Hitler was sending his generals across Europe.
Sale, who died yesterday aged 80, began the rebuild officially on the same day in 1994 the National Museum of Computing, another of his preservation projects, was opened by the Duke of Kent. It was just as the PC industry was booming and the World-Wide Web taking off.
Then as now, while the industry prospered, the Museum struggled for cash. The computing generation didn't know it was making history. It thought it was making the future.
The Sales had to fund the Colossus rebuild themselves because, Tony Sales said in a booklet he wrote on the project, they couldn't wait any longer. There were too few people with knowledge of the original Colossus computer.
"If the effort was not made immediately there would be nobody still alive to help us with memories of Colossus," he wrote.
Many of those who worked on the original project had died before the 1970s when the British government at last allowed the Colossus secret out. It had destroyed all record of the machine, to hide Britain's proficiency in code-breaking from the Cold War Soviet Union. (Or it thought it had, as Sales was fortunately to discover).
The world meanwhile thought the USA had built the first computer, much to Sale's dismay.
As he wrote: "For far too long the Americans had got away with the myth that their ENIAC was the first computer in the world."
"As 1996 was the 50th anniversary of the switch-on of ENIAC I made sure that Colossus was rebuilt and working in Bletchley Park, just as it was in 1944. There has been a stunned silence from across the water!"
This was one of his motivations for embarking on the ambitious Colossus rebuild, as he put it defiantly in a video on his code-breaking website. He had lived through the war, and though he was too young to fight, had joined the Air Force in the 50s. They were proud times.
Since Britain's pride had been destroyed to preserve its secret, Sale had to rebuild it literally from scraps.
He unearthed eight war-time photographs, 10 fragments of circuit diagrams some of the original engineers had kept illegally, and some general lectures given by lead engineers including Flowers in the 80s.
His effort was helped by British Telecom, which was then decommissioning telephone exchanges that still used equipment Sale could authentically put in the 1940s computer. It had originally been built using Post Office components, most visibly radio valves. Like all good inventions, it had used what was to hand.
Some War-time Post Office engineers joined Sales' rebuild team too. A final break-through came with the publication under US Freedom of Information of reports a US engineer had made about Colossus from Bletchley during the war. It still took them 14 years to complete the rebuild.
The other reason why Sale led the rebuild was to prove how good the 1940s technology was. A Pentium PC, programmed to perform the same tasks as Colossus, took twice as long to do them, Sale said in his 1998 booklet on the project.
Not many people were interested in the mid-90s. Sale eventually secured funding for Colossus from a small charitable fund operated at the bequest of Mrs LD Rope, a Christian family's inheritance. A donation was made by Frank Morrell, one of the original engineers who built the Tunny, the British contraption that emulated the machine that produced the German military's 'unbreakable' ciphers. Keith Thrower OBE, a former president of the Institution of Electronic and Radio Engineers and an author of books about the radio valves used in Colossus, donated money as well. Those firms providing the metal, electrics and valves did so at knock-down rates.
Lately, some of those US firms that grew in the 1990s to dominate the industry have put money into the National Computing Museum also founded by Sale, and which now houses his rebuilt Colossus. Insight Software and IBM were prominent among them.
Though it preserves the memory of the richest of industries, the museum is still so short of cash it relies on volunteers. The Museum's home of Bletchley Park, which was also preserved through Sale's effort, lacks funds to preserve the history of Britain's War-time computing pioneers, though it was recently relieved by funds and publicity from Google. It has made an exhibition of the extraordinary War-time code-breaking machines and put them alongside papers and a most moving sculpture of Alan Turing, the centre's famous mathematician and father of computing.
Sale's accounts of the War-time code-breaking efforts were conspicuous for not mentioning Turing. The latter's memory has tended to overshadow the work of others at Bletchley Park, even while he became the figurehead around whom many of its patrons rallied. Sale was a radio ham who celebrated those Post Office engineers often left out of casual tellings of the code-breaking effort.
Sale himself joined the Air Force because it had been the only way he could afford to get an education. He had been a bit of a whiz-kid, making the news in the late 40s with a life-sized, radio-controlled robot he built out of Meccano. But his tinkering with radio got him into serious work in the RAF. He had to shun the limelight till retirement, and became principal science officer at MI5, like Q in the world of James Bond. What he actually built at MI5 is still a secret.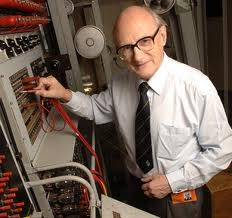 The Museum's volunteers took on something of Sale's spirit. They have assembled an impressive selection of hardware and acquired a couple of super computers they are now considering putting head to head over a game of chess. Exasperated by the quality of computing education in schools, they get groups of kids in to teach them how to programme.
If they don't succeed there will be more reasons why Britain is the most appropriate place for a museum of computing. But they, Sales legacy, have like Sale himself carried on the Bletchley pioneers' work of achieving extraordinary things with whatever was to hand. Or as they said in the War, make do and mend.