FOI shows bureaucratic bungle behind open standards u-turn
Standards institutions persisted in their opposition to the UK's open standards policy after Cabinet Office minister Francis Maude reassured them their fears about it were unfounded, according to letters released to Computer Weekly under Freedom of Information.
The revelation raises questions about the minister's subsequent withdrawal of the UK policy, on 30 November, which was by then under no substantial pressure bar lobbying from large US software companies and, bizarrely, the record industry.
A letter sent by Maude in June last year, and obtained by Computer Weekly, showed how he had even then already extinguished threats and fears raised by opponents of the UK open standards policy in official standards bodies in Chiswick and Geneva.
The International Standards Organisation and its UK franchise, the British Standards Organisation, had threatened that the coalition government would be in breach of international agreements if it persisted with the policy. This would have meant expulsion from the international standards community, a threat so severe that it sent the Cabinet Office into a tailspin of public consultations.
But the standards bodies had got it all wrong – and this they later admitted.
The letters now obtained by Computer Weekly suggest they either misunderstood the policy because their executive officers did not understand software standards issues, or they wilfully misinterpreted it to protect their business interests. Neither organisation was available for comment.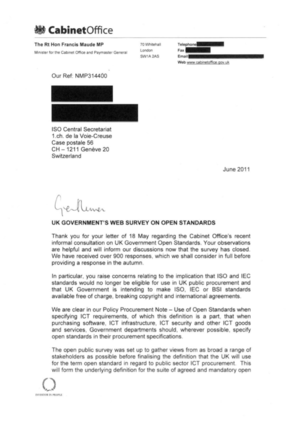 ISO had written to Maude on 18 May to protest UK policy amounted to a bar on its standards, which were protected by law.
It said the UK was otherwise seeking to distribute ISO standards free of charge.
Letter
Maude's reply in June told ISO it was mistaken. UK policy would require public procurement officials to specify open standards only "wherever possible". It recognised that not all technology the government required would satisfy its preference for open standards.
The upshot was that ISO standards might not be listed among those the UK recognised as open and mandated for use in public systems. The list was a measure to avoid problems like that experienced at Bristol City Council, which said it was locked-in to using proprietary Microsoft systems against its wishes.
But, Maude assured: "We do not plan to preclude their inclusion if they are the most fit for purpose in delivering our business needs. Therefore ISO, IEC and BSI standards may be included in the catalogue and in UK procurements."
The rules would have meant standards like the Open Document Format were mandated for use in government systems, while proprietary formats like, say, Adobe's pdf were approved for limited purposes in recognition of the fact that they had cornered a specific market in which there were no known alternatives.
It is not clear why ISO and BSI persist in lobbying against this policy on those points which the minister had assured them were misunderstood.
Meeting
Maude met with Mike Low, BSI director of standards, in the week of 23 July to discuss the matter. But Lowe, a civil engineer who has held his post since 2003, was not satisfied.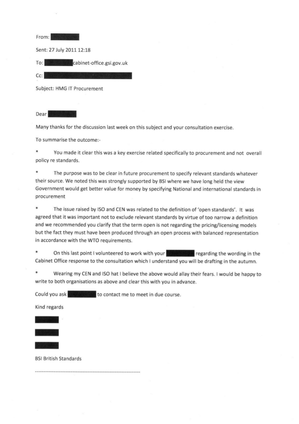 Low said in an email to Maude on 27 July that he and the minister agreed UK policy should not rely on so narrow a definition of an open standard that it excluded other standards deemed important.
Speaking as UK representative of ISO, and in apparent ignorance of Maude's May letter, he said the government would "allay their fears" if it revised its definition of an open standard in a way that would encompass ISO standards.
He went on: "We recommend you clarify that the term open is not regarding the pricing/licensing models but the fact they must have been produced through an open process."
The sticking point for ISO was that part of UK policy said an open standard was one that prevented anyone from restricting its use through patent fees or licence terms.
Since Maude later retracted the policy (on 30 November) and put the question of what is an open standard out to public consultation, it looked like the minister had caved in on an IT policy that defined his party's position on matters as wide as open source software and how best to avoid Labour IT disasters like the NHS National Programme for IT.
Tea-cup
BSI later confirmed that it had been assured by Maude's explanation. But only after Liam Maxwell, Cabinet Office director of ICT futures, had gone over it again with David Bell, BSI head of policy, in October. Maxwell gave the same assurances Maude had given in June and, presumably, July. This time, BSI said later, "We were reassured". Yet it still maintained its opposition to UK policy, only now without apparent justification.
In January, ISO said its 18 May letter had sought clarification on UK policy, expressing its fear that its standards "might no longer be eligible" for public systems in the UK because they didn't meet the UK definition of an open standard.
"In a reply in June 2011 the Minister of Cabinet Office noted the concerns raised and indicated these would be considered along with the results of the survey. We understand the UK Government is further considering actions it will take on the matter. In view of this we want to see what the UK Government's response will be to the analysis of survey results," said ISO.
It gave no indication that its concerns had already been addressed in a manner that had "reassured" its UK representative.