Errors in thousands of records in prisoner tracking system - internal EDS study
A study of the Prison Service's database of prisoner records has found thousands of omissions and inaccuracies, including the use of "self-harm" or no entry at all in the surname field.
Prison Service and IT staff are trying to correct errors in the networked Local Inmate Database System [Lids] – which holds records on more than 80,000 prisoners – after the Service's IT supplier EDS discovered that thousands of records contained incorrect information or data was incomplete or missing.
About thirty thousand offenders – 37% of the total in the database – did not have a criminal records number, and more than 21,000 – 26% of the total – did not have a police national computer number. The system provides information on transfers of offenders to and from prison, and records their risk rating.
The omission of information in Lids was criticised in an official report into the murder of Zahid Mubarek at Feltham Young Offenders' Institution in the early hours of 21 March 2000.

Zahid Mubarek was put in the same cell as Robert Stewart when there was information within the Prison Service that Stewart was a violent and sometimes racist psychopath. Mubarek was due to be released on the day Stewart bludgeoned him with a table leg.
One of the criticisms of the Prison Service in a report of a public inquiry into the death of Mubarek was that only limited information about prisoners on Lids, and there was a "serious failure" to enter information about Stewart on the system. The report found there was an "overreliance on paper systems".
But Computer Weekly has learned that, eight years after Mubarek's death, the Lids database remains of so little use that prison staff say they are still reliant on paper for information about prisoners. The database dates back to 1991. One sign of its obsolescence is the programming of the database's fields which are designed for entries of nationality under the Soviet Union which was dissolved in 1991, and for East and West Germany to be treated as separate countries although they were unified in 1990.
The 2006 report of the public inquiry into Mubarek's death said the first phase of C-Nomis, the National Offender Management Information System, which would replace Lids, other systems and paper records, would be implemented in all prisons by November 2007.
But C-Nomis has been delayed and today C-Nomis is installed in three prisons – with the other 137 institutions in England and Wales still using Lids.
Lids is supposed to record key information on all prisoners in England and Wales including details of those who represent the greatest threats to public safety, foreign nationals in prisons, immigration detainees, persistent offenders, and those on temporary release.
The database holds information ranging from a prisoner's education to whether they are high risk, their nationality, ethnic origins and custodial history. It is designed to help prison officers track prisoners and some immigration detainees as they move cells and prisons.
The report on Mubarek's death said Lids contained "some personal data about prisoners" including details of their offences if they were known, information about when they were due to go to court, the cells to which they had been allocated, the sentences they were serving, their release dates, and whether a security file had been opened for them.
The inquiry report said: "There was also a single line [in the Lids database] available for additional text. The Inquiry was told that this usually related to medical or security information, although we saw no examples of that."
The Prison Service's current IT supplier EDS analysed the quality of data in Lids in advance of the rollout of C-Nomis. It found that some records on the database had made-up surnames such as "self-harm," and 194 offenders had no surname at all.
In 2006 the Prisons Minister Gerry Sutcliffe told the House of Commons that the nationality of prisoners is "routinely recorded on both the computerised Local Inmate Database and on the prisoner's core paper file". But the EDS study found that the Lids database had nationality details missing for 1,557 [1.93%] offenders.
Prison staff say the problems of poor quality data stem from inaccurate or incomplete information being entered into the systems by prison officers and other officials.
Poor data quality is a widespread issue across government. For example millions of taxpayer records at HM Revenue and Customs are "open" on its databases partly because of inaccurate records
To stop inaccurate information being entered on Lids, the Prison Service has issued new instructions to prison governors, controllers of contracted out prisons and those receiving prisoners directly from courts.
An instruction notice dated February 2008 explains changes in working practices to "ensure the accuracy of Lids data" and to "ensure data fields are not used for erroneous information", and to "prepare for data migration to C-Nomis".
It says that information provided by EDS and recent data analysis work has revealed a "significant level of errors with the Lids database". Local staff taking in new prisoners from the courts must check 10% of key data entries – or a maximum of 50 new cases a week – to make sure their details are correct.
"In order to ensure progress is made in improving the quality of data entered on Lids, Governing Governors must implement a system of self-audit that will ensure standards are improved and maintained."
The lack of reliable information in Lids has been criticised by various organisations and researchers, in part because the data is sometimes contradictory. In 2000 a research paper for the Home Office found that where prisoners were being considered for home detention there was a "large minority of cases" in which records in Lids were missing or incomplete. Another research report found that Lids registered no previous offence for a prisoner while noting separately that the person had previously received a custodial sentence.
A Prison Service spokeswoman said the EDS study, although it was quoted in a notice to staff in February 2008, was 18 months old. She said: "The position has improved considerably since then and a greater proportion of prisoners currently have their CRO [criminal records] recorded in the prison service system."
But Prison Service staff question whether there has been a major improvement. They said the system was originally due to be replaced by 1997.
One official said:
"The system is so old some of the fields are open to be used for purposes other than what they're supposed to be used for.

"The screens look a bit like the very old [table-tennis] computer games where a ball bounces off a block. When you're booking a visit for a prisoner the field you use is the field that's supposed to be used for special dietary requirements."
The official added:
"It has got to be useful because we have no choice but to rely on it. It's relied on for everything that relates to the prisoner. It should have sentencing details, where he is going and where he is going. But it's reliant on the information going into it.
"If the wrong information goes in, it is very difficult to correct that. If you try it throws up all sorts of problems…It's very limited on backgrounds of prisoners. It tells us when a sentence is up but it not reliable and cannot reliably tell us about immigration prisoners. This is all done on a very ad hoc basis."
Alex Flynn, spokesman for the Public and Commercial Services union said his members in the Prison Service "waste large amounts of time" on cross-checking data in Lids against paper and records and data held in various systems. He said it was possible for prisoners to be technologically lost in the system.
It has also transpired that data in Lids provides some raw data for the Offender Assessment and Sentence Management – OASys – which assesses how likely an offender is to be reconvicted. OASys also identifies a prisoner's risk of harm to self and others, indicates any need for further specialist assessments and measures how an offender changes during the period of supervision/sentence.
A spokeswoman for the Ministry of Justice said:
"Prisoners are tracked within the prison service under a different system. It does not rely on PNC [Police National Computer] or CRO [Criminal Records database] numbers. Although improving data quality and completeness is about having that detail there and easily accessible, it's not the only place where that information is kept and is not the key indicator for prisoners with the prison service."
However an internal Prison Service document said of Lids that it is regarded as an authoritative source of general information on prisoners. It said: "LIDS (Local Inmate Database System) is the authoritative source of general information about individual offenders. For any information which is held both in the LIDS record and in the OASys record for a offender, LIDS is the 'master' data source."
Separately the Prison Service said in a statement to Computer Weekly:
"There are several systems and checks which support Lids, including the Inmate Information System, which acts as a safeguard by highlighting any errors.
"The PSI [Prison Service Instruction which gave details of the EDS study] in question seeks only to improve the quality of the inputting and improve efficiency. All prisoners go through a series of checks before being released from custody or transferred to a lower security establishment.
"This does not mean that prisoners do not have a CRO number or that they could be released early or be released without a record. The PSI is purely concerned with improving data quality and completeness in the prison service.
"The details quoted by the prison service in their recent instruction were in fact 18 months old – the position has improved considerably since then and a greater proportion of prisoners currently have their CRO recorded in the prison service system."
The Ministry's statement did not mention that the Inmate Information System is based on overnight updates from the Lids system.
Plans have been drawn up for links between Lids and the TPP SystmOne Prison Solution supplied under the NHS's National Programme for IT [NPfIT].
**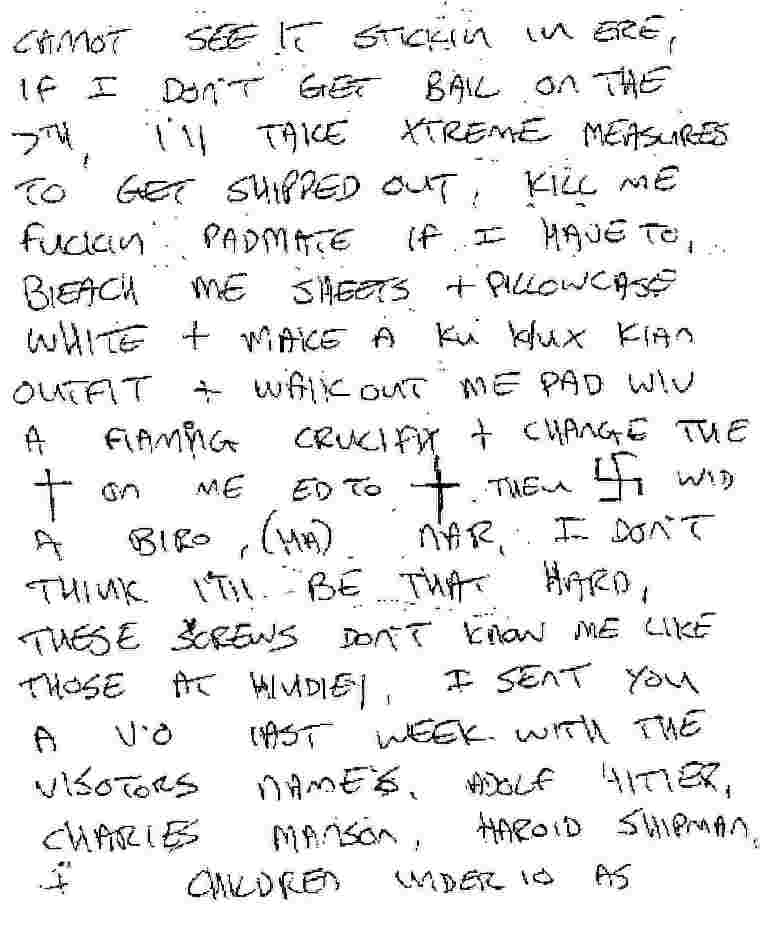 Should the psychopathic Robert Stewart have been put in a cell with Asian Zahid Mubarek, a man he later murdered? Information about Stewart should have been added to his file on the Lids system but wasn't. Above is part of a letter from Robert Stewart, dated 23 February 2000, and found by the police after the murder by Stewart of Mubarek in the cell they shared in the HM Prison Service Young Offenders Institution Feltham in March 2000
Links:
Prisoner database riddled with errors
Why was a psychopath put in Zahid Mubarek's cell?
BBC News online – Chronology on Mubarak murder
Zahid Mubarek inquiry final reports – including references to the Lids and C-Nomis systems
Soaring costs force C-Nomis cutbacks
Gateway reviews, ID cards and work on a £244m government IT programme that's "on hold" [C-Nomis]
C-Nomis – House of Commons question and answer [2008]