What to expect from QCon London 2016
It can't possibly be 12 months can it? Yes it can, QCon London is staged next month.
CONFERENCE:March 7-9, 2016
WORKSHOPS:March 10-11, 2016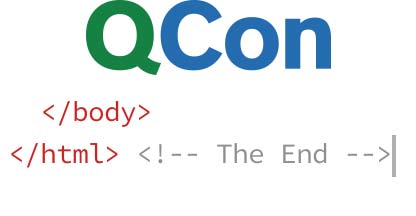 What has changed & what has stayed the same?
Last year we said this was a software development conference with guts not glitz — that's still true.
There will be plenty of self-confessed nerds, geeks and code junkies milling around and absorbing the sessions, that part is still true.
The event is described as a "practitioner-driven conference" designed for technical team leads, architects, engineering directors and project managers who influence innovation in their teams… that part is still true.
Highlights
You can dig deep here https://qconlondon.com/, but some selected highlights include the following:
Speakers include Dave Farley, co-author of the book "Continuous Delivery"
Also speaking… Netty Core Developer & Cloud Infrastructure Engineering @Apple

Norman Maurer

Sessions of note include (but are by no means restricted to) Architecting for failure… your system will fail, so take control before it takes you with it — and Microservices for mega-architectures.
Actually, it's mostly more of the same (in a good way)… but perhaps at a slightly amplified level — the only change we have reflected here is to profile QCon London in the open source blog category.
Okay yes there will be your proprietary players there too, but open source will be especially strong this year… as it is everywhere.
Perforce, of course
Software application development professor emeritus, all round nice guy and European marketing director at collaboration and version control system company Perforce is Mark Warren — with the words 'QCon preview' in front of mind, Warren reminded us that QCon is now celebrating its 10th anniversary this year.
"Looking back at the topics over the years, there are a few constant themes: Java continues to be at the core and even seems to be on the up again; SOA is still around except now we're calling it 'microservices'; new languages and frameworks that are set to be the next big thing continue to appear; and methodology topics have evolved from Agile to Continuous Delivery and DevOps," said the Perforce man.
Warren added, "All the cool new stuff is fun and easy for new, small projects and small teams but I'm looking forward to hearing how these ideas can scale for medium to large enterprises without reducing quality, productivity or security."