The software-defined business cometh
Somebody had to say it, so it might as well have been an Application Performance Management (APM) company that did so.
Having just about got our heads around Software Defined Networking (SDN) — where system management is decoupled from hardware to be given over to the control offered by a software application called a controller — we now learn that the software-defined business cometh.
APM vendor AppDynamics has been busy attempting to coin this buzz-phrase in the context of its core solution.
The firm's core offering has (queue news item) just been augmented with enhancements for apps built in Java, .Net, PHP and mobile apps; new support for Node.js, Scala Apps and Big Data stores based on increasingly popular NoSQL databases
This software is intended to monitor, manage and analyse complex software environments in real time and in production.
AppDynamics' Spring 2014 Release includes new support for NoSQL Big Data stores including MongoDB and Hadoop, Couchbase and Cassandra through its extensible API framework.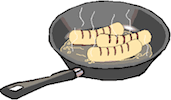 "This goes way beyond monitoring — it's true application intelligence," said Jyoti Bansal, founder and CEO of AppDynamics
… and that, if you buy the sizzle on this particular sausage, if some of what makes a software defined business i.e. it is a firm who can trace its core operational vital signs down to functions and control that are dictated (or at least managed) by software.