Telerik: developer tools with Bulgarian bootstrapping
Bulgarian software tools company Telerik held its first global user conference this month.
The firm is known for its .NET user interface controls and also has Application Lifecycle Management (ALM) technology.
Newly acquired by Progress, the TelerikNEXT event saw news of support for Microsoft development tooling and new contributions to open source.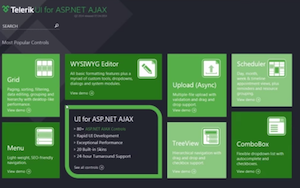 "When Progress acquired Telerik, we knew we were getting a transformative player in the application development space. Everything we knew prior to the acquisition has not only held true, but has exceeded all expectations," said Karen Tegan Padir, president of application development and deployment, Progress.
The firm's Kendo UI user interface framework is now shipped to be 'fully equipped' with Microsoft Office 365.
Open source news was focused on NativeScript and Telerik JustDecompile — the firm is also known for its Telerik Screen Builder product.
Bootstrapping
ScreenBuilder works to "bootstrap" applications by starting with "prewired" screens that can then be easily code edited in the AppBuilder too later to match exact requirements.
The firm insists that it has made its commitment to open source known with the release of Telerik Kendo UI Core framework.
In the same open source vein, the company now announces the availability of NativeScript, a JavaScript framework for developing native apps with JavaScript and CSS.
According to the PR machine, this release "fully rounds out" the company's cross-platform solutions for any development approach — responsive web, hybrid or native.
In addition, the Telerik NativeScript framework team is collaborating with Google on early stage integrations around AngularJS 2.0.
Telerik also announced that it will open source the JustDecompile engine, its .NET assembly browsing and decompiling tool.
This software enables developers to take an existing compiled assembly (.dll or.exe) and browse the symbols it contains to decompile the assembly language back to readable C#, VB and IL.
Microsoft love
As a self confessed Microsoft development tooling supporter, Telerik supports all new Microsoft releases, often before they're made available to the general public — so here we find ASP.NET 5, MVC 6, Visual Studio 2015, C# 6, Roslyn, the Edge browser, Office 365 (and more) all being supported by the complete Telerik DevCraft toolset.
"Office and SharePoint Add-ins can now be built using standard web technologies like HTML and JavaScript that work in Office on the desktop, Office Online and Office for iPad. We want to ensure we're giving developers great tools." said, Chris Johnson, group product manager for Office 365, Microsoft.
"The fantastic Telerik Kendo UI framework enables developers to build fantastic looking web based Office add-ins. That is why we've opted to give members of our Office 365 Developer Program access to Kendo UI to better enable their development efforts, across the board," he added.