Should tax-funded government software be free?
The non-governmental Open Source for America (OSFA) organisation has called upon the U.S. Federal Government to free up code produced as "custom-developed, taxpayer-funded software" for general use under an open source license.
President of selection pressure John Scott has explained that his group is specifically interested in how publicly funded software code developed by the government (which isn't already covered by a proprietary license) should be made available to the wider public.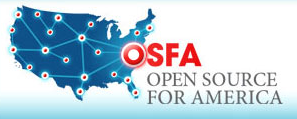 The Washington DC headquartered OSFA organisation is made up of technology industry leaders, non-government associations and academic/research institutions.
John Scott and Deb Bryant of the Open Source Initiative (OSI) co-chaired a "Free the Code" session at the Open Source Conference (OSCON) this week in Portland, Oregon to invite interested parties to join the debate.
"Releasing code as open source would significantly increase reuse and collaborative development between federal agencies and the private sector," said Bryant. "We hope that others agree and will sign our petition at We the People asking the Federal Government to share government-developed software under an open source license whenever possible."
Free the Code is asking anyone with an interest in taxpayer-funded software to sign the petition at: http://goo.gl/K920J
The White House has pledged to respond to any petition on the We the People site that garners 25,000 signatures within 30 days.
Software freedom guru, champion, activist and all round GNU project hero Richard Stallman wrote the following in 2005:
"The UK government has funded the development of software useful for e-government, and now doesn't know what to do with it. Someone had the bright idea to hand it over to local councils, inviting them to turn themselves into software companies."
"The public have already paid to develop this software. Isn't it absurd to make them pay, now, for permission to use it? Isn't it absurd to restrict what they can do with it? Alas, such absurdity is not unusual; it is standard practice for governments to deliver publicly funded software into private hands, to companies that make the public — and even the government — beg for permission to use it afterwards."
You can read his full post here: http://www.gnu.org/philosophy/second-sight.html