Red Hat Ansible 2.0: a 'playbook' for agentless automation
Red Hat bought Ansible, that made sense.
We know that Red Hat is a major player in the open source enterprise space (on many levels) and Ansible was (and still is) a company (now an internal Red Hat brand) that makes "agentless" orchestration and configuration management tools.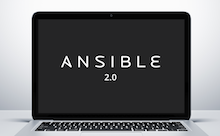 Ansible's technology comes in the form of an automation engine designed to help deploy both applications and the wider software systems that they exist within.
Now we learn of the general availability of Ansible 2.0.
This new release of the "agentless" IT automation framework brings new integrations with a variety of services and providers, broadening support for public, private, and hybrid cloud deployments.
Windows-centric
Specifically, it expands Ansible's footprint into Microsoft Windows environments and network management.
Ansible is designed to enable developer and operators in IT organisations to quickly learn and deploy the software, so they can break down barriers between IT teams by automating routine activities.
New features include:
Task blocks enable easier development of playbooks and tasks, and additionally provide the option to integrate exception handling and recovery;
A refined playbook parser provides clearer identification of errors and provides suggested fixes;
New execution modes provide users with ways to increase the speed of deployments across many machines;
Increased flexibility in tasks facilitates easier reuse of automation content across a variety of environments and contexts; and
Logging playbook information to services such as chat, email, or log aggregators can be easily configured through newly included plugins.
Tim Cramer, head of Ansible Engineering at Red Hat says that he "strongly believes" the users should be able to focus on improving their business, rather than learning complex tools.
"Ansible 2.0 expands upon that vision by delivering increased flexibility in the Ansible Playbook automation language, while still retaining the ease-of-use and simplicity that enables developers and operators to get started quickly," he said.