Pydio: open source alternative to Dropbox & Box
Pydio (pron: 'pi-dee-yo') has released version 6.0 of its open source file sharing platform.
The firm's development team promise "the most workable solution to date" for corporate IT departments and developers seeking a controlled, open source alternative to consumer cloud services such as Dropbox, Box, Google Drive and Microsoft OneDrive.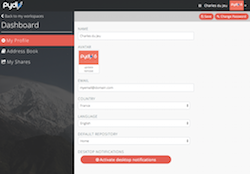 Pydio 6.0 an open source file sharing solution that is said to offer "tight control of information" on the scale demanded by enterprises and service providers.
"Until now, open source file sharing solutions have failed to deliver a workable alternative to consumer-focused cloud storage services," explains Charles du Jeu, Pydio CTO and founder of the original open source project.
"Pydio 6.0 reinforces enterprise scalability, multi-device flexibility and extends the platform's centralised administration controls. But more importantly, we have combined this with a complete reworking of the front-end user experience."
A "controlled" service
The firm suggests that companies are currently exposed to massive liability, with employees using uncontrolled, consumer services to share and store sensitive company information.
"Without offering an intuitive, user-friendly alternative, IT departments will find it impossible to prevent employees reverting to these free, easy-to-use online services," continues du Jeu.
Formerly known as AjaXplorer, Pydio is now an established open source project in the file sharing space.
The tool is designed to focus on common day-to-day tasks.
Short video guides for sharing options are embedded into the user interface.
Power user pleasures
It also features deeper, enterprise-focused features for power-users and system administrators, but these have been moved to a second level to avoid confusing the majority of users.
With full functionality licensed under the AGPL, Pydio also provides a solution for developers looking to build multi-platform file sharing into their own products or cloud service offerings.
"Whether applications are installed in-house or delivered as hosted, cloud services, customers now expect to be able to work on the same content across multiple devices," continues du Jeu. "Pydio, provides developers with a ready-made, open source solution for integrating different client applications (PC, Mac, Linux, iOS, Android, etc.) into a unified, multi-device platform."