PentahoWorld 2014: new blends & recipes in the data cooking pot
The first ever PentahoWorld conference was staged this week in Orlando, Florida.
Given the preponderance of so many long in the tooth tech events these days, it's nice to see how a firm with open source founding like Pentaho would structure a gathering of some 400 or so attendees – the audience itself is made up of
75% developers
25% business decision makers for data and analytics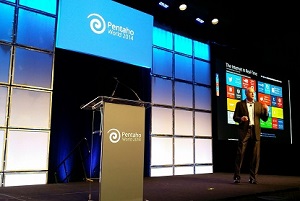 Chairman and CEO Quentin Gallivan kicked off by reminding us that the Business Intelligence (BI) market is now 20 years old.
From initially being focused on transactional data and historical analysis, BI has (as we know) started to turn towards big data and next-gen data architectures.
The universe of data is exploding
Although we know that the universe of data is exploding and people are getting connected with data, IDC estimates that we are ONLY ANALYSING half of that data.
Gallivan says that right now, our corporate IT functions are trying to work out what to do with all this data and help the Line of Business functions start to monetise the big data flows that circle around them.
"Evolving data architectures are required for blending of all data… we need to blend from the relational world to the unstructured world,"
What we are talking about here is getting analysis happening on the under-utilised elements of so called "dark data"… but this is hard because firms do not want to mess with their EDW (Enterprise Data Warehouse) structures.
NOTE: Dark data is operational data that is not being used — Gartner describes dark data as information assets that organisations collect, process and store in the course of their regular business activity, but generally fail to use for other purposes.
So to get to the next stage of data analysis – we need to combine analytics, analytics databases, big data, EDW and data marts … it sounds initially like it could be a noisy business. Pentaho clearly wants to tell us that it will have an answer.
#PWorld2014
With all this happening at the back end, we have an additional problem; the consumerisation of IT means that users EXPECT to be able to use data faster and more easily – and it needs to be social too.
In his keynote, Gallivan lifted the veil on a big data orchestration platform that he insists will be instrumental in delivering a vision for overcoming three persistent big data challenges:
need for strong data governance,
diverse data blending,
and delivery of analytics embedded at the point of impact.
Fundamental to Pentaho's strategy is the concept of governed data delivery, defined as the ability to blend trusted and timely data to power analytics at scale for all users in all environments.
"In our hyper-competitive global economy, companies are urgently seeking to harness the value from all their data to find new revenue streams, operate more efficiently, deliver service and minimise risk," said Gallivan.
"They need a platform that catalyses collaboration between IT and business to meet demands both for governance and the business need for timely, comprehensive data," he added.
The new "big blend" for data includes embedded data analytics, real time data analytics, complex unstructured big data analytics, plus all the elements of transactional and historical data analytics that we have been familiar with up until now.