OpenStack Grizzly showing maturity says development team
This week sees the arrival of OpenStack Grizzly, the seventh release of the open source software for building public, private and hybrid clouds.
Global contributors to OpenStack have now grown 45 percent in the last six months. This figure sits alongside a total of 230 new features now recorded to support cloud production operations with broad Software-Defined Networking support.
Organisations running OpenStack in production include Best Buy, Bloomberg, Comcast, CERN, HP, PayPal, Rackspace and Samsung.
The OpenStack community comprises of more than 480 contributors who have between them merged 7,620 patches in the Grizzly release.
To improve software quality and upgradability as new features are added, the OpenStack team says it has put "significant effort" into the core infrastructure including testing paths and upgrade testing on every commit.
Contributors have added these 230 new features across compute, storage, networking and shared services in the cloud platform.
"The Grizzly release is a clear indication of the maturity of the OpenStack software development process, as contributors continue to produce a stable, scalable and feature-rich platform for building public, private and hybrid clouds," said Jonathan Bryce, executive director of the OpenStack Foundation.
"The community delivered another packed release on schedule, attracting contributions from some of the brightest technologists across virtualisation, storage, networking, security, and systems engineering. They are not only solving the complex problems of cloud, but driving the entire technology industry forward."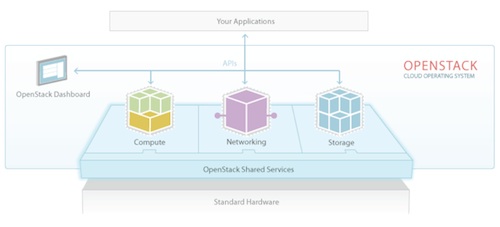 New features include:
● OpenStack Compute — Compute delivers improved production operations at greater scale, with "Cells" to manage distributed clusters and the "NoDB" host architecture to reduce reliance on a central database. Improvements in virtualization management deliver new features and greater support for multiple hypervisors, including ESX, KVM, Xen and Hyper-V.
● OpenStack Object Storage — Cloud operators can now take advantage of quotas to automatically control the growth of their object storage environments.
Also updated is OpenStack Block Storage, OpenStack networking, OpenStack Dashboard, OpenStack Identity and OpenStack Image Service.
Following the Grizzly release, the community will gather at the OpenStack Summit to plan the roadmap for the Havana release, coming October 2013.