OpenScholar: a Drupal-based content management system for universities
OpenScholar is a Drupal-based content management system designed specifically for academic use, created by Harvard University and released under an open source license.
So what?
Well okay you so what types… this tool aims to solve the "Babel Tower" problem many academic institutions face.
What's that?
As the web began to make its way into academia, staff and departments often created their own sites, hiring students or external companies.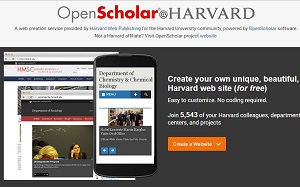 Within a few years, many university IT departments found themselves having to maintain an assortment of different code bases written in various programming languages and environments – not only making it hard to update the websites' content, but posing a significant security risk as well.
There must be some kind of way out of here, right?
Increasingly, institutions chose to standardise on a single solution, with Drupal – the open source CMS also used at Whitehouse.gov to Economist.com.
Harvard University chose to take this approach a step further by creating a custom CMS on top of Drupal.
To achieve this goal, a Drupal distribution was created by bundling modules such as Organic Groups, which allows running multiple websites on the same database, Spaces and Context, which powers a friendly drag & drop UI and Feeds, which helps import content from diverse sources.
Having a specific, well defined target audience lets OpenScholar make opinionated design choices regarding UI, features and administration workflow, customising it for a professor or department looking to create and manage their web presence.
Available under an open source license, OpenScholar can be hosted locally on a university's servers or with leading Drupal PaaS providers Acquia and Pantheon who support it out of the box.
Over 5,400 Harvard University websites have been created with OpenScholar so far, serving over a million page views a week — plus it has good multilingual support.
OpenScholar was developed over the past three years by a team of developers at Harvard working with consultancy Gizra.