Open source amphibious tsunami-resistant houses
There aren't many times when we confuse the building and construction of physical buildings with the building and construction of software applications.
Thanks in part to a high energy keynote rant from Microsoft's Steve Ballmer, even non-techies seem to have an idea that developers, developers, developers means software application developers — and not the guys in the yellow hard hats.
When we talk about open source architecture we are once again, mostly talking about the "architecting" of software applications and their modelling, construction and later development, debugging and refinement.
Separated at birth?
But should we separate open source (building) construction from (software) construction so definitely?
Reports this week show that African community leaders are forming new open source development collaborations focused on innovative housing designs in developing nations.
There is nothing to suggest that the open sharing of construction designs should be any different between Linux advocates and those building much needed housing in sub-Saharan Africa, is there?
Last year saw the Architecture for Humanity (a non-profit design company) merge its network of open architectural designs with green solutions website Worldchanging for mutual open information interchange in a new online data repository.
The beat of African open source
AllAfrica.com reports news that designs for a flood-proof house for Bangladesh were shared on this newly enriched Open Architecture Network.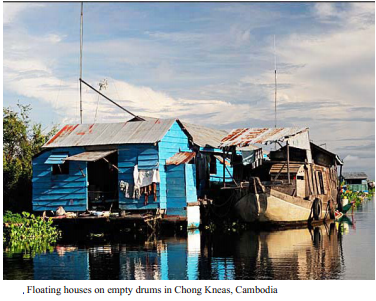 Bamboo innovation
According to the report, "The bamboo house has a central tower which collects and recycles rainwater, with two buoyant sections on either side: one with a floor made from used plastic bottles…
… the other with a floor made from a hollow mesh of cement and steel. It was originally built in Dhaka, Bangladesh."
Next time you are using your Android phone or coming into contact with some Java-based technology, think about open source designs for amphibious tsunami resistant houses in the Ganges delta.
Image credit above from The LIFT House: thesis by Prithula Prosun