More Internet of Things means more Bluetooth
Devices are being connected to the so-called Internet of Things (IoT) at an increasingly rapid rate — this we already know to be true.

The rise of 'smart home' technologies and 'wearables' means that the IoT is demanding more connectivity all the time i.e. these devices need a connection channel… and it is often Bluetooth.
NOTE: Interestingly, the rise of low energy Bluetooth is also starting to deliver wireless connectivity to 'products' such as store-bought goods that we might never have previously considered to have been blessed with connectivity.
SIG power is rising
New developments here include the fact that the Bluetooth Special Interest Group (SIG) has announced the general availability of its Bluetooth Developer Studio, a no-cost software-based development kit that helps developers learn Bluetooth technology quickly and (hopefully) bring products to market faster than ever.
"The Bluetooth Developer Studio arms developers with an all-in-one, cost-efficient tool to turn their ideas into reality. With it they can create products and applications that make our lives easier, better, smarter," said Steve Hegenderfer, director of developer programs, Bluetooth SIG.
Hegenderfer goes on to assert, "With Bluetooth Developer Studio, not only will we see more smart gadgets enter the market, we will see quality products that 'just work' delivering the IoT experience consumers actually want."
What's inside?
The Bluetooth Developer Studio's key benefits and features include a drag-and-drop user interface, sample codes, virtual and physical device testing… plus also built-in tutorials for faster deployment.
Additionally, the tool makes it easy to share reference designs and use successful implementations created by others.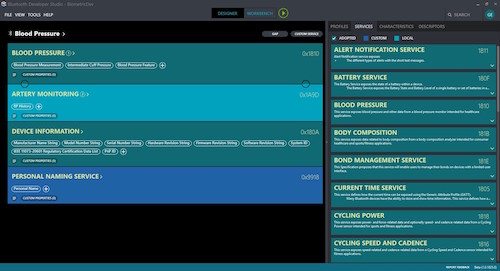 The Bluetooth Developer Studio Dashboard