Microsoft open sources Worldwide Telescope (WWT)
Microsoft "hearts" Linux and open source, remember?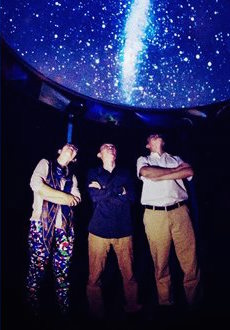 Well yes it does, even if the long term goals are commercial — enough already, it's a business just like the one you work for, so it is allowed to make money unless it reinvents itself as a non-profit overnight, which it doesn't need to.
Can we just look at the Microsoft open source news? Okay, sorry.
The firm has just opened the the code for its Worldwide Telescope (WWT) software and released it to GitHub for full open access.
The code is now open source under the MIT license and has become an independent project as part of the .NET Foundation.
The Worldwide Telescope (WWT) research project launched in 2007 as a collaborative project between Microsoft and various academic institutions including NASA's Caltech.
The project is intended to give us what has been called a, "Unified contextual visualisation of the universe."
The software works to search outer space in the following modes:
Earth,
Sky,
Planets,
Panoramas,
Solar System
Microsoft explains it's plans for open sourcing the project below:
First, we have placed an initial codebase in GitHub, the Worldwide Telescope Web Client. We view this as an important milestone because it demonstrates our commitment to this effort, and more importantly, it allows the community to begin to explore the code. An important note: This was a bit of a 'trial run', and we are not actively accepting commits just yet, and there is no developer support at this time. This repository contains the HTML5 SDK which is the rendering engine for the web client and the embeddable web control. It also contains the full web client code, which is buildable with the free Community Edition of Visual Studio.
Second, we have continued to work the astronomy community to improve the readiness and capacity to successfully move forward with OpenWWT. We have also continued to add content to this Web site for the community: 'WWT Stories' and documentation on 'Building on the Current Capabilities of WWT'. Finally, we are also in ongoing communications with the American Astronomical Society regarding the leadership role they can play in the future.