Mendix: smart IoT apps for smart dummies
Not just software application development apps, not just Rapid Application Development (RAD) apps… but rapid delivery of so-called 'smart apps'. This is the set piece being played out by Mendix.

Download this free guide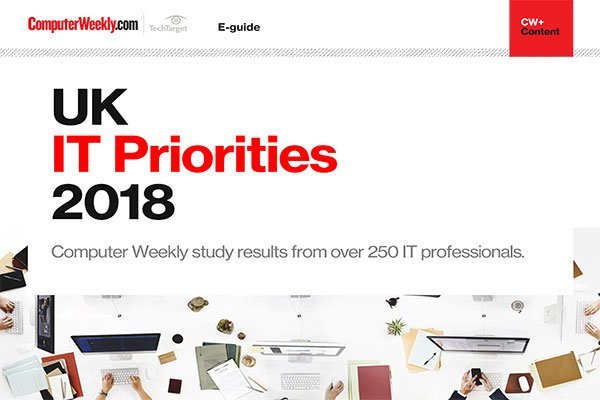 2018 UK IT Priorities survey results
IT organisations in the UK and across Europe are starting to accelerate the move to the cloud. Read more about the key areas in which senior IT managers are planning to invest in over the next 12 months.
IoT, big data and machine learning
The firm offers an open platform ecosystem of tools in Mendix 7 with drag-and-drop connectors to IoT, big data and machine learning platforms and services.
Additional highlights include a web modeler that opens up the platform to a wider audience, a connector kit enabling easy integration and automated testing and performance monitoring capabilities to manage digital innovation at scale.
According to Mendix, without writing any code, developers can use these component services to make connected things and insights actionable, delivering new experiences for customers, partners and employees.
Marketing people like to insert the term "seamlessly leverage" in the above paragraph, but we figured you'd like to keep hold of your breakfast, lunch, dinner (delete as appropriate).
Mendix 7 enables out-of-the box connectivity to:
AWS IoT – a managed cloud platform that lets connected devices easily and securely interact with cloud applications and other devices
AWS Machine Learning – a service that guides users through the process of creating machine learning models without having to learn complex ML algorithms and technology
IBM Watson: AlchemyVision – an API that can analyze an image and return the objects, people and text found within the image. Concept Insights – a set of services for performing content recommendation and exploration. Text to Speech – a REST API to synthesise speech audio from an input of plain text. Visual Recognition – a service allowing users to understand the contents of an image or video frame. Dialog – a service enabling developers to automate branching conversations between a user and an application
LoRaWAN – Low Power Wide Area Network with features to support low-cost, mobile, secure bi-directional communication for IoT, M2M and industrial applications
MQTT – a lightweight messaging protocol for small sensors and mobile devices, optimised for high-latency or unreliable networks
Also in the mix here is the Mendix Application Test Suite — the firm says that while testing & QA is an essential discipline in all software development projects, functional and regression testing can be challenging for apps that go through iterative cycles of development and go-live.
Developed in partnership with Mansystems, the Mendix Application Test Suite is a full-blown test suite for embedding functional testing in your application lifecycle.
What actually is a smart application?
Mendix provides these three elemental factors…
Intelligent – They make recommendations and guide users to take the next best action
Proactive – They predict what's likely to happen and trigger workflows telling users what to do when
Contextual – They're personalised, aware of users' location and embedded in their processes