KPMG: five good reasons to use open source
Sometimes the best news is hidden… and isn't always news.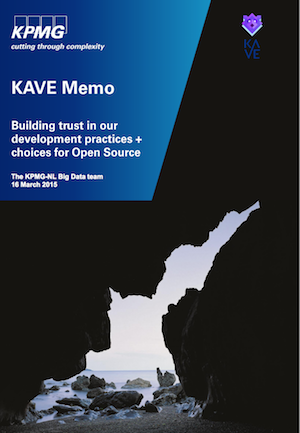 You'd have to be looking hoard to find this… but deep inside a PDF white paper written by KPMG, the firm has justified its reasons for using, adopting, developing and subsequently releasing open source software.
KAVE man like big data
The KPMG Analytics and Visualization Environment (KAVE) is an open source big data offering.
The software itself is described as a modular big data platform that can be tailored to each user's needs.
According to the firm, "Through complete use of your own data, you generate value; for people, for society, for customers, for businesses and governments. The first step lies in overcoming obstacles common to many organisations, to easily unlock the value of your data, external data, and to develop new applications."
Validation for open source
KPMG has validated and justified its reasons for choosing open source components and says it selected software on the following basis:
In environments where there are no 'sufficiently advanced' close-source competitors
Where there exists a choice of licenses for use by commercial and non-commercial organisations
Where the software in question exhibits what we might label as 'class-leading' performance or it can be said to be a class-defining solution with a history of excellence
Where there exists dynamic and actively good support in terms of an vibrant user community and/or an open source contribution community
Where there was full horizontal scalability for immediate use in full blown enterprise environments