Is this SAP's most serious play yet in mobile?
SAP says it is looking to deliver on a promise of secure programming for mobile apps based upon open standards (both on premise and in the cloud) with its latest mobile software application development offerings.
For SAP, the new generation of mobile apps are marked out as what the firm calls "user-centric" — but is there any other kind if we're not in the machine-to-machine space?
So product-wise, what we're talking about here is… the 3.0 release of SAP Mobile Platform, which comes with an accompanying cloud version powered by HANA.
Developers: "bring-your-own-tools" (BYOT)
For programmers here, there are a set of platform services, an open standards-based architecture and an accompanying openness to what has been called a "bring-your-own-tools" (BYOT) strategy through integration with third-party development tools.
In practice, the BYOT concept is intended to give programmers openness and freedom so that they do not necessarily have to spend time learning new tools and protocols.
"Today's most successful businesses run mobile, so to stay competitive companies need to move quickly to implement a future-proof mobile strategy on an integrated, open, standards-based mobile platform," said Anthony Reynolds, senior vice president, worldwide mobile sales and solutions, SAP.
SAP's primary mobile application solutions
Reynolds claims that "early interest and feedback has been fantastic" and so to expand upon the previous integration of the Sybase Unwired Platform, the 3.0 release of SAP Mobile Platform will integrate what are classed as the firm's "primary mobile application solutions" i.e. SAP Netweaver Gateway technology, Sybase Mobiliser and Syclo Agentry.
NOTE: With a forecasted 102 billion mobile apps to be downloaded in 2013 (Gartner "Forecast: Mobile App Stores, Worldwide, 2013 Update"), SAP says many app developers now prefer to develop for mobile devices over desktops.
So is this SAP's most serious play yet in mobile development?
SAP says its Mobile Platform will not require re-engineering of processes, resources or existing infrastructure.
"The platform is designed to keep developers "out of the weeds" and focused on creating a compelling user experience building on essential core and application services," said the firm, in a press statement.
These core services that run in mobile apps will include:
• authentication,
• life-cycle management,
• logging and data integration and,
• app services fo mobile commerce including couponing, loyalty and mobile banking,
• oh, and geolocation too
"Our research shows that all applications will be mobilised, making full application lifecycle management critical for protecting mobile investment," said Chris Marsh, principal analyst, Yankee Group.
"Companies will look to integrated platforms along with open standards and interoperability to gain longevity. The leading mobile app platforms will be characterized by open and extensible architectures, an API management and data orchestration layer, extensive developer libraries, agnosticism to tools, infrastructures and standards, integrated testing and analytics and a rich ecosystem."
A future-ready architecture
To provide a premier user experience for developers without requiring training on new tools, SAP Mobile Platform is intended to offer a future-ready architecture based on open-standards and open-source technologies that incorporate the latest mobile technologies.
These will include offline capabilities using the Open Data Protocol (OData) standard; OSGi architecture with Spring and Equinox frameworks; open-source Apache Cordova container with platform plug-ins; extensive use of HTML5 both in the product and for building apps; and HTTP REST APIs common across the on-premise and cloud versions of the platform.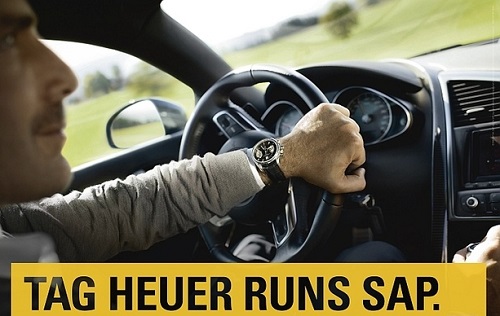 TAG Heuer & SAP: Swiss watch, German technology, towel on sunbed guaranteed
"To optimise productivity while helping reduce development time and maintenance costs, developers shall still be able to choose their preferred development tools, augmented with software developer kits (SDKs) provided by SAP and libraries for building native and hybrid apps," said the company, in a press statement.
Additional capabilities to help reduce total cost of development shall include common SDK for both on-premise and cloud mobile apps; WYSIWYG development environment for HTML5 apps; BYOT support; standards-based data integration; and offline/synchronization support.