Intergalactic Software Freedom Day is today
Your diary is marked for September 19 to celebrate Intergalactic Software Freedom day, right?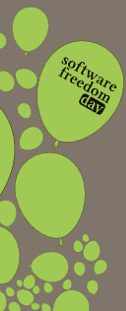 Actually, they don't use the 'intergalactic' part, I just added that — but they should.
This global (online) event is simply a celebration of Free and Open Source Software (FOSS).
According to the organisers at softwarefreedomday.org the goal here is to celebrate and educate the world (they mean galaxy, I think) about the benefits of using high quality FOSS in education, in government, at home and in business.
The non-profit organisation Software Freedom International coordinates SFD at a global level, providing support, giveaways and a point of collaboration, but volunteer teams around the world organize the local SFD events to impact their own communities.
Vision & Objectives
1 To celebrate software freedom and the people behind it
2 To foster a general understanding of software freedom, and encourage adoption of free software and open standards
3 To create more equal access to opportunities through the use of participatory technologies
4 To promote constructive dialogue on responsibilities and rights in the information society
5 To be inclusive of organisations and individuals that share our Vision
6 To be pragmatic, transparent, and responsible as an organisation