German public Projektgruppe advocates Interoperabilität
A parliamentary committee in Germany has called for a change in national laws to enable 'public administrations' to open source their software and make it free to the private sector.
According to parliamentary member Jimmy Schulz, government departments in Germany are currently prohibited from being part of the free software development process.
Schulz himself is also chairman of the Interoperability, Standards and Free Software Project Group — or, to use the correct German…. the Projektgruppe Interoperabilität, Standards, Freie Software.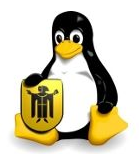 "This is a clear disadvantage because it cuts off all benefits obtained from free software, such as being cost-efficient and state-of-the-art," said Schulz. "We also called for public administrations in general to make sure that new software is created as platform independent as possible."
Germany has had a chequered history with open source deployment in public bodies to date.
While Munich city council has saved around £9 million by implementing its own Linux distribution (known as LiMux), the city of Freiburg reportedly suffered huge compatibility and performance problems after a botched OpenOffice implementation.
You can read more on the UK's moves toward open source and the Top 10 reasons why the UK government is afraid of open source here.