Free work style analysis test
Don't be disappointed, Jive Software's new WorkType Finder is not a personality test says the firm's exec VP Elisa Steele.
We increasingly analyse our lifestyle today (especially so given the rise of the so-called Internet of Things) to calculate where we can digitise, automate and bring technology innovations to bear – so why not analyse workstyle (one word) then?
According to Jive, by understanding their WorkType, employees can recognise their unique workstyles – the habits and preferences for how they prefer to work – and ultimately use this knowledge to work better.
"At the same time, managers can draw on this information to create more effective teams," said the company, in a press statement.
The WorkType Finder guides users through a series of six straightforward questions. Once completed, the WorkType Finder immediately calculates and provides participants with their primary and secondary WorkTypes.
The eight WorkTypes are:
• Explorers – provide new ideas and fresh perspectives.
• Experts – help solve the toughest problems.
• Planners – create the processes to streamline what needs to get done.
• Optimisers – drive organisation to increase efficiency and productivity.
• Energisers – achieve the seemingly impossible.
• Producers – bring vision into reality and deliver results.
• Connectors – thrive on meeting new people and bridging gaps.
• Coaches – bring out the best in people.
The test (ok sorry, it's not a test) is found linked here.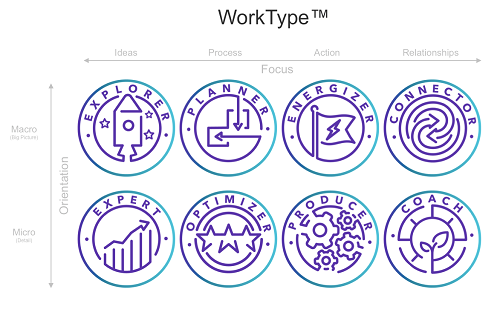 Editorial analysis
This tool was presented as part of Jive Software's Jive World 2014 conference and exhibition. The predominant user type found at the conference (populated by developers, product specialists, technologists and other i.e. successful hardworking people) was "Explorers" with "Planners" coming in as the second most popular. Jive's Steele argued that this means: "not only are you all a bunch of creatives, you also want to get things done", as she put it. The only criticism here is that one imagines that this test could be a lot broader and feature a wider range of questions. Also, given that Jive is a self-styled 'communication and collaboration' player, then why not make the test more socially interactive and feature so-called 360 degree feedback from peers? It's an impossible argument because the company is merely trying to show that it has technology prowess in this field and is providing a snapshot web-based tool which is arguably quite fun to use.
So… open source?
Why is this story on the Computer Weekly Open Source Insider column?
Because Jive's 'Fall cloud release' offers enhanced mobile apps for both iOS and Android.
The Jive Android app now features announcement viewing and the ability for people to follow the content, people and places most important to them.