Flash in the Drupal pan? Acquia releases Lightning for Drupal 8
Acquia Lightning arrives this month as a freely available open source distribution of Drupal, which, in itself is a free and open source content management framework written in PHP. Acquia does, obviously, also offer 'paid for' elements of functionality.

Download this free guide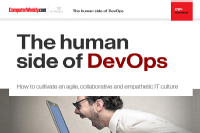 The human side of DevOps
DevOps practitioners often claim that taking care of the technology side of the continuous delivery equation is nothing compared to getting the people part of it right, as agile-inspired processes often require IT teams to adapt to very different ways of working. Download this guide to read best practices and real-world examples of organisations who have successfully addressed the human side of DevOps.
Drupal (now at version 8) is used by personal bloggers and hobbyists, but also by governments and large companies. Acquia's content management system (CMS) software is said to power approximately 12 per cent of all Drupal implementations on the planet.
The new software release Acquia Lightning is meant to streamline authoring for business users and make it easy for non-technical users to manage content.
Lightning helps build & customise four key components of content
Drag-and-drop layout: Responsive layouts so everyone can be a site builder and create pages.
Media management: Create, upload embed, and manage social media and digital assets
Content workflow: Configure content workflows to streamline review and ensure editorial quality and add governance and control for publishing.
Experience preview: Conduct a comprehensive review before publishing content.
Members of the Drupal community build and maintain the modules that extend core Drupal functionality.
"With Lightning, Acquia has done the work of providing a tightly integrated distribution that conforms to security best practices, enabling organisations to move faster in developing new applications on Drupal 8," said Chris Stone, chief product officer, Acquia. "Lightning removes 20 percent of the time required for every new Drupal 8 development project."
Several Lightning modules were developed under the support of Acquia's Module Acceleration Programme, which coordinates and funds initiatives to accelerate development across the Drupal 8 ecosystem. Lightning is the most installed Drupal 8 distribution, according to Drupal.org.