Fedora 19 Schrödinger's Cat hits beta release

The Fedora Project team has reached the beta release of the free Fedora 19 operating system, code-named "Schrödinger's Cat."
Updates to this free Linux-based operating system are scheduled approximately every six months — and each Fedora release is said to represent the culmination of work by 'hundreds' of engineers and 'thousands' of contributors.
With this beta release download, the software is "relatively stable", but the team says that real-world usage reports from users are important as they help identify any lingering bugs so they can be addressed before it is more widely distributed.
NOTE: Schrödinger's Cat illustrates the principle in quantum heory of superposition, proposed by Erwin Schrödinger in 1935.
Included in this release of Fedora is the Developer's Assistant tool. This is intended to serve those learning the ropes of software development.
"This tool helps you to get started on a code project with templates, samples, and toolchains for the language of your choice – and helps you push code out to GitHub when you're ready," says the team.
Also in the mix are a variety of tools for 3D printing – ranging from software for creation of 3D models, to tools for generating and sending code to send to 3D printers.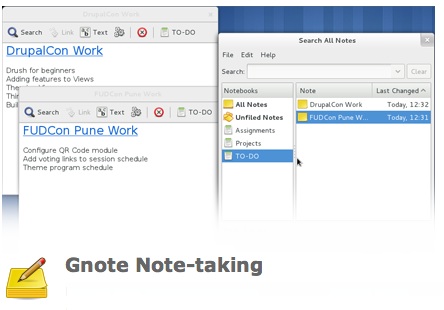 IMAGE: The Gnote is a note-taking application that you can use to build a personal database of notes and to track your to-dos — it automatically saves your notes with no intervention from you and has a rich search interface.
The official release blog reads as follows, "Make your machines work for you – not the other way around. Whether you have one, or one too many machines, Fedora 19 provides a variety of improvements to the management of the operating system, including the boot process, recovery from failures, migration of systems, and more. Tools for diagnosis, monitoring, and logging enable you to be proactive, not reactive, leaving you with more time to spend doing the things you love to do."