Contain(er-ize) yourself, it's Intel Clear Linux
The Clear Linux Project for Intel Architecture is a new distribution of Linux (not the normal just another Linux distro kind, keep reading) that has been built specifically for 'various' cloud use cases.
The distro is container-centric, like Red Hat Atomic Host.
NOTE: Red Hat Enterprise Linux 7 Atomic Host, an operating system optimised for running the next generation of applications with Linux containers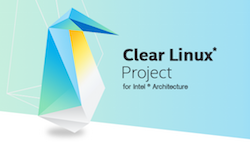 Intel brings in its container centricity in here (Ed – not an actual expression, surely?) with its Clear Containers technology and says it is working on a way to improve security of containers by using the VT-x technology of Intel processors.
Intel: lean-and-fast is better than big-and-universal
Intel explains that its aim was NOT to make 'yet another general-purpose Linux distribution'; and so, as such, while it has included 'many' software components from the OpenStack Foundation, but it chose (among other decisions to cull) not to include a GUI or printing support.
Intel's strategic aim here appears to be creating a place where we can use BOTH the advantages of containers and the advantages that come from the kernel-native features in Linux together, in union.
Intel open source software engineer Arjan van de Ven has said that his firm wanted to create a technology for containers that uses the isolation of virtual-machine technology along with the deployment benefits of containers.
"As part of this, we let go of the "machine" notion traditionally associated with virtual machines; we're not going to pretend to be a standard PC that is compatible with just about any OS on the planet," wrote van de Ven on LWN.net, the website formerly known as Linux Weekly News.
Also in this zone of technology is CoreOS.
NOTE: CoreOS uses Linux containers to manage services at a higher level of abstraction than normally seen — a single service's code and all dependencies are packaged within a container that can be run on one or many CoreOS machines.
Intel underlines the goal of Clear Linux OS as an initiative to 'showcase the best of Intel Architecture technology' from low level kernel features to more complex items that span across the entire operating system stack.