Chef: your server is not a pet, think of it as cattle
Chef is in fact the company formerly known as Opscode; the company renamed itself after its core IT automation product subsequent to a recent round of successful funding.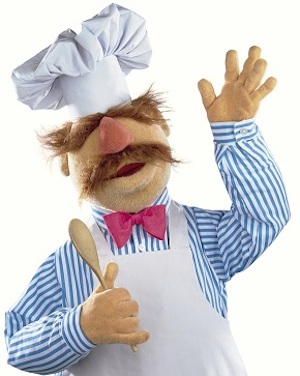 The firm has, arguably, spiced up its offering in recent times and just appointed former GE Capital codemaster Justin Arbuckle as the firm's new 'Veep for Yurp' and (more interestingly) chief enterprise architect.
So what is IT automation?
In terms of a purist definition: IT automation is the linking of disparate systems and software in such a way that they become self-acting or self-regulating.
NOTE: free image: wikipedia (not a real spokesperson)
In terms of a wider definition: IT automation is the kind thing that HP and BMC have been spreading down as bread and butter for many years now while newer players such as Puppet, Ansible Labs and perhaps Salt Stack also now come forward into this market.
CA Technologies also talks volubly on automation and so-called "autonomic" computing systems… but let's move on.
So how has IT automation changed?
IT automation used to be an easier beast to pin down i.e. we used comparatively homogeneous technology infrastructures that could be:
• classified
• measured and quantified
• managed and
• subsequently automated
But today we operate in a world with changing mobile infrastructures, changing cloud infrastructures and changing virtualisation infrastructures.
Arbuckle urges us to accept that Chef is an automation platform is capable of transforming infrastructure into code.
"Stop thinking in terms of physical and virtual servers. With Chef, your real asset is the code that brings those servers and the services they provide to life," he said.
As such, the firm is championing new tools for developers — and let's make note here that there is open source Chef and also Enterprise Chef, which is why you are reading this in the Computer Weekly Open Source Insider column.
Chef's open source product is used extensively by both Facebook and Amazon Web Services, this is not some hobbyist piece of amateur tooling.
So what Chef is saying is, a server should be regarded as just a block of code and we should seek to implement tools to manage it thusly.
So what are the new Chef tools?
The company has brought forward new tools (announced at its April ChefConf in San Francisco) which sit initially in the Enterprise Chef product.
Chef Action is intended to improve reporting on actions in the Chef server.
Chef Metal has been designed in order to enable the provisioning of clusters of servers and aims to empower the individual software application developer with more overall control over the total IT environment.
Chef DK — the Chef Developer Kit… and this matters because:
"We're moving from a tools-based approach to a language-based approach in IT automation and this will always constrain us in terms of what the tool can do. The difference with Chef is that we take a language-based approach based on Ruby and this means we can DESCRIBE everything we run in production," said Arbuckle.
"We now have the capability to validate our compliance (in terms of what is running in production) when we look to automate because of the control we get from taking a language-based approach," he added.
Above all, both tools seek to ask of the user a "minimum of manual granular interaction"… a proposition that, surely, embodies what automation really means to us now as technical users.
Chef: a server is cattle, not a pet
"We used to think of our servers and operating system as something delicate that we need to look after — this is the model where we consider servers at pets. But the fact is that we now have more flexibility in terms of where we want to deploy workloads — these are just lumps of computing power that we can direct as needed that can be spun up and spun down. This commodity approach means we can start to treat servers like cattle now," said Chef's Arbuckle.
Arbuckle also says we can now still be very precise in terms of the way we can configure the machine, so there is no danger of animal cruelty.
Looking forward, he says he will look to see where Chef can help address business-specific use cases and investment in the developer community across Europe.