Camino web browser, for Mac open source purists only?
Camino is an open source web browser for Mac OS X users that requires Mac OS X 10.4 or later. If you've never heard of it, then you should at least know that it has been around since 2002 and it has a special 'Safari migration' area on its website to encourage users to make the switch.
So what, you ask?

But I hear you say, Safari (or Opera, or IE9, or Chrome or Firefox) works just fine on my Mac thanks – so why would I bother?
Well aside from Camino being named after the Spanish word for "path" (a pathway to the web! see what they did there?), the latest iteration of the browser is pretty multilingual with support for 15 languages including Norwegian (Bokmål) and Spanish (Castellano) just in case that tops your browser want list.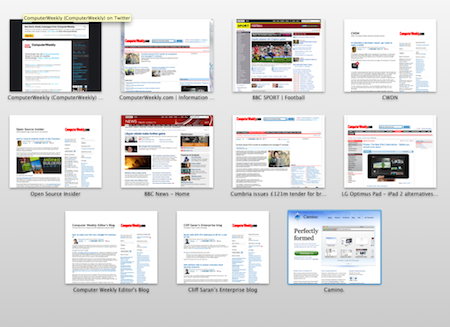 Although Camino is arguably behind most of the aforementioned browsers, it does have a nice tabbing overview function accessible by hitting CTRL-APPLE. This throws up all open tabs in one screen view. There's also some respectable phishing and malware protection — and, according to the browser's home page it is a, "GUI-based browser based on Mozilla's Gecko layout engine and specifically designed for the Mac OS X operating system."
It's hard to see a really strong reason for wanting this browser on your Mac, perhaps if want to be seen as an open source Mac purist?