Android Lapse It photo app: puts pro cameramen out of a job?
The rise in prominence of LibreOffice with what is now claimed to be 80 million active users is fuelling discussion around those Free & Open Source Software (FOSS) applications that do as good a job (if not better) as their proprietary counterparts.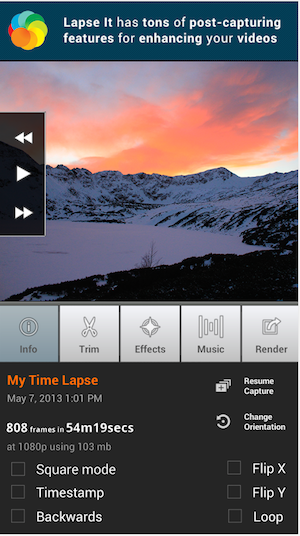 We don't usually review apps as such on the Computer Weekly Open Source Insider blog, but Lapse It for Android (it's native for iOS too) is worth calling out.
Available on the Google Play store, Lapse It is a free time lapse photography app for your smartphone or tablet.
There is a paid for "Pro" version too with more features and less ads — and a higher capture resolution up to 1080p.
In the lite version, the resolution is limited to 240p.
The app is promoted with the following blurb, "Events such as movement of clouds, the rising and setting of the sun, a party with your friends, even individual activities or anything else that you can imagine. You will see them in a new way and otherwise undetectable patterns will emerge."
You can upload directly to YouTube, Facebook and others social/video sites.
Lapse It has a native C++ render engine and a fully featured range of settings to apply.
The app works rendering the videos in the Android proper format, so you can watch the videos on your phone, share it across the web and with other devices.