World Cup IT blogger mixes with Zidane and reflects on journey

Just over a week has passed for our World Cup Blogger. Although there are probably not enough hours in the day, World Cup bolgger gets time to rub shoulders with the likes of Zinedine Zidane (picture to prove it below).
This is the fifth of a series of blog posts from Dilbagh Gill who is head of Sports at IT supplier Mahindra Satyam.
He has the enviable task of making sure the event management software, that Mahindra Satyam has built for FIFA for the 2010 World Cup finals, runs smoothly. Dilbagh has agreed to blog from the event during the competition, which begins this month.
See his first, second, third and fourth blog posts.
Also see the World Cup blogger being interviewed by Computer Weekly.
World Cup IT blog 5, by Dilbagh Gill

Well, week one of the World Cup is over and 25 games are done. Getting some breathing space now and have been able to reflect for sometime on the journey that got us here.

I may be a sentimental old fool – but the last 40 months has been one of the best rides I have been on. This is one trip where the destination has been as good as the journey. The sweat, blood and tears put in by the team has been worth it.

But – how did we reach here?

Mahindra Satyam was relatively new to the sport industry when we initially signed the contract with FIFA. So were the other technology partners MTN and Telkom. Working with three new firms did make FIFA's and their affiliate organisation MATCHs' life quite challenging. The spirit and enthusiasm from FIFA and MATCH in helping us understand the nuances of sport, while we delivered our respective obligations was simply awesome. The collaboration of working with internationally recognized consultants was very inspiring to our team which had the right attitude but may not be the same level of experience in sport. The biggest lesson for us, which is totally different from the conventional IT in this industry, is that it is not necessarily about "best practices but about best experiences".

We need to acknowledge the advice and commitment of FIFA and MATCH along with the support of Telkom and MTN in helping us navigate to our common destination – we have fond memories.

Some down time also: (not talking about our software)

We have been quite lucky to take some time off to see a few games – our team has really enjoyed these fruits of labour. The atmosphere at the opening game at Soccer City between the Bafana Bafana and Mexico was just inspiring. 85,000 fans and nearly the same number of vuvuzelas – can it get any better?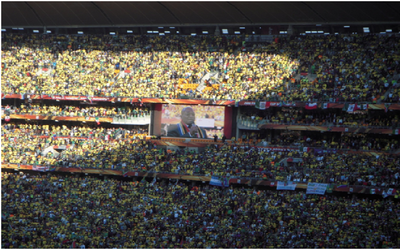 Photo Caption: "President Zuma addressing the crowd at the opening game"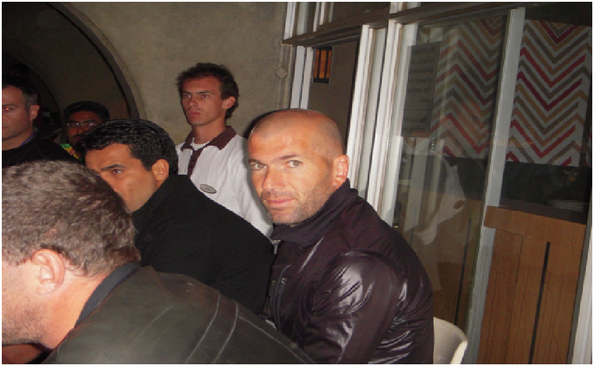 Photo caption: Zinadene Zidane sitting three chairs over

Also got to meet the "King of Poland" one of the most interesting fans I have ever met – his knowledge of the game was just amazing – able to rattle any statistic you could think of.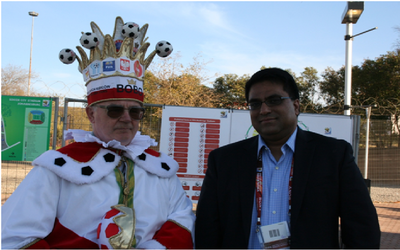 Picture Caption: Dibagh meets King of Poland
Today we got to meet the captain of Bafana Bafana and Steven Pienaar. Aaron Mokoena (Captain) spoke to us about some of his social initiatives. His focus and dedication to his causes was inspiring. You realize during these moments that leaders are leaders in all walks of life. Well we wished him and the team the very best for their next game.
Oh yes – our uniforms did arrive the day before yesterday. We desperately needed the jackets as it is getting cold here.