World Cup IT blogger is in the thick of it
This is the second of a series of blog posts from Dilbagh Gill who is head of Sports at Mahindra Satyam.
He has the enviable task of making sure the event management software, that Mahindra Satyam has built for FIFA for the 2010 World Cup finals, runs smoothly. Dilbagh has agreed to blog from the event during the competition, which begins this month.
He is now in South Africa putting together the final tests. See some of his photographs in this post.
Also see Dilbagh interviewed by Computer Weekly.
World Cup IT blog part 2 BY Dilbagh Gill:
"Since my last blog, the working days are getting longer as all processes and applications are now moving into production mode, sequentially.
From my perspective, it feels good to be back in an "event mode" – and personally l Iove the rush that a tournament of this scale brings. There is also a heightened anxiety within the team as we do our final system checks and go through our checklists. None of us want to be in the position of that engineer who forgot the radiator shield on Jenson Button's McLaren 2 weeks ago at Monaco resulting in a very short race and a cooked engine (an analogy which motor sports fans will understand!)
One of the best parts of these long working days is the inspiring presence of Soccer City Stadium under whose shadow we work. This is how it looked this morning when I drove into work.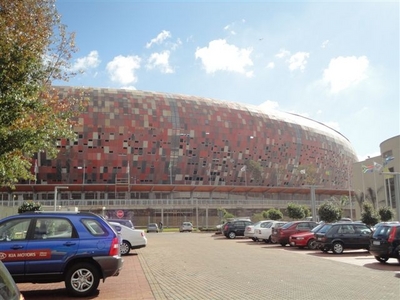 16 hours and some 434 laptops configured later – here is what it looks like while we take a "coffee" break. It is just amazing the amount of visible effort that is going to get the stadium all dressed for June 11th. This is one civil project where you literally can witness something completed in a day. Amazing stuff – it is going to be a beauty.
Talking about coffee, I have been told we have consumed 21,600 cups so far (and have the invoices to prove this).
So where are we less than two weeks from the first match? We have now completed around 20% of the accreditation so far. That's over 40,000 individuals from VIPs and officials to media attendees that have been accredited through our Event Management System.
Statistically this means we are pretty much running as per schedule. Some teams have arrived already including Brazil. This means that the unique "Team Services" system developed by Mahindra Satyam is now being put to use. This piece of software helps each of the 32 participating teams to plan and request logistics for their training and practice games – and has been a widely appreciated value-add to the event. This was created by two dedicated guys on the team who identified this need and were able to provide this module in 6 man-months. It is these parts of the process which have actually helped us provide an improved stake-holder experience.
I had to go to the FIFA HQ during the day for a meeting and the courtyard outside the office which has this 10 foot countdown clock (not much help to my blood pressure!) was being decked out with Adidas balls replicating designs right from the first World Cup. You can see this here.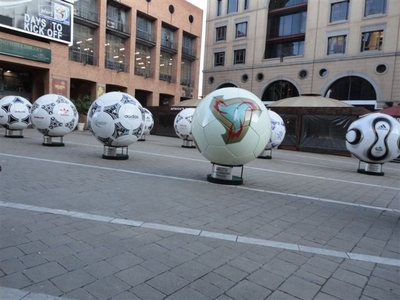 Well I need to sign off now for tonight otherwise you are going to see the stadium again in daylight.