Who are the best IT outsourcing service providers in Europe?
As I blogged earlier Equaterra's latest 2009-10 Europe IT Outsourcing Service Provider Performance and Satisfaction (SPPS) study has put Cognizant at the top in terms of general customer satisfaction.
25 service providers were ranked based on an assessment of over 2,000 deals and feedback from over 750 of the top IT spending organisations across 12 countries in Europe.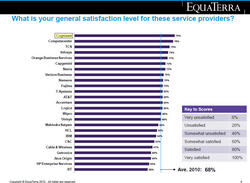 Click on the picture (right) and see the full top 25 ranings in order.

It makes interesting reading. Three of the top five offshore service providers with most their capability in India.
Take a look for yourself.