NHS IT project is dead, but why do large IT projects fail? Part 7
Following the news that the NHS National Project for IT has been dropped I have been posting some of the views I have recently had provided to me for an unrelated feature I am working on.
The feature, which will appear in two parts on Computerweekly.com soon, asks the question: Why do large IT projects fail?
I started with the comments made by Brian Randell. Randell is a professor of at the School of Computing Science at Newcastle University.
Then part two came from Anthony Finkelstein. He is professor of software systems engineering at University College London (UCL) and dean of UCL Engineering.
Part three, was from Yann L'Huillier, group CIO at financial services giant Compagnie Financiere Tradition, who has also headed up IT at several of the world's stock exchanges.
Part 4 was from James Martin, the former IT COO Europe at investment bank Lehman Brothers.
Part 5 from Philip Virgo , who is secretary general at the Information Society Alliance. He has nearly 40 years' experience of IT projects.
Part 6 was from investigative journalist Tony Collins, who has revealed the problems in many an IT project, gives us his opinion on why large IT projects fail.
Today in part 7 it is Professor Ilan Oshri, who is an expert on outsourcing.
Ilan Oshri is associate fellow at Warwick Business School and associate professor at the Rotterdam School of Management.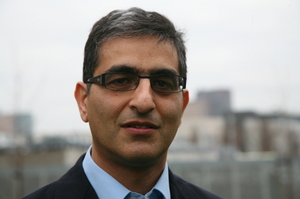 He has authored books including: Offshoring Strategies: Evolving Captive Center Models (2011, MIT Press); Outsourcing Global Services (2008); Knowledge Processes in Globally Distributed Contexts (2008); Standards-Battles in Open Source Software (2008); and co-authored The Handbook of Global Outsourcing and Offshoring (2009).
He says:
"From my research I learned that failure happens in major IT outsourcing simply because both client and vendor are keen to get down to business instead of doing their homework properly. Put simply, client firms need to carefully examine and address some very basic questions prior to engaging in the actual project. Some of the questions we expect client firms to ask are: why to outsource? What's the alternative? What is the value in outsourcing and how value delivered through outsourcing improves the firm's short and long term strategic objectives? Client firms should also realise whether they have developed sourcing management capabilities to manage vendors according to some of the expectations discussed above. While the expectation is to benefit from the value in outsourcing, our research shows that many client firms still focus on service level agreements and on daily operations. The end result is that many client firms fail to connect service delivery standards with the firm's strategic objectives. But even when such a connection between the operational and strategic objectives exists, value defined in the early stages of the outsourcing project will change over time. In other words, value is a dynamic concept that requires both clients and vendors to figure out ways to define and redefine as time goes by. Success in outsourcing is more likely to be achieved when client firms set up their expectations what can be achieved through outsourcing, communicate these expectations to their vendor and work with their vendor to define and redefine value delivered over time."