London Stock Exchange turns IT oustourcing on its head and wins
Don't pay your outsourcer for services or partner them. If you can afford to, just buy them and build an offshore development team, cut costs and increase revenue in one fell swoop.
One of my first posts on this blog in 2009 was about outsourcing being turned inside-out by the London Stock Exchange.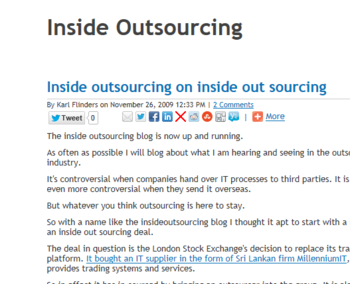 Big businesses buying IT suppliers is not new, in 1984 General Motors bought EDS, but the success of the London Stock Exchange's acquisition of trading software supplier MillenniumIT is a recent success story.
Back in 2009 I broke the news that the London Stock Exchange was dumping its .Net based trading system, Tradelect, and replacing it with one from Sri-Lanka bases treading software supplier MillenniumIT.
In fact the LSE acquired the entire company. This way it retained control of the development of the trading platform which is critical to the exchange's business. It also gave it hundreds of developers in Sri-Lanka, an additional revenue stream through sales to other trading venues.

In fact the clout that the London Stock Exchange gave Millennium IT both financially and reputation ally actually increased sales. The stock exchange announced today that in the first 6 months of this year sales of MillenniumIT software grew 19% to £11.4m.
And additional revenue is unimportant compared to how the actual technology has improved the performance of the London Stock Exchange. The exchange completes trades in about 100 microseconds on average today compared to about 3 milliseconds in 2009.
What's more it is no longer blighted by crashes.
Good business you might say when you consider MillenniumIT cost £18m and provides revenue compared to the previous system where the exchange paid Accenture £20m each year to maintain.
Will this be a trend? General Motors recently decided to take IT back in-house and take on thousands of staff from its current services partner HP