IT outsourcing contracts failing to deliver 28% of what is expected
In continuation of my recent theme of blogging about IT outsourcing contract renegotiations here is another bit of info my interviews with experts has revealed.

Download this free guide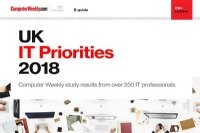 2018 UK IT Priorities survey results
IT organisations in the UK and across Europe are starting to accelerate the move to the cloud. Read more about the key areas in which senior IT managers are planning to invest in over the next 12 months.
As I work on the feature and receive more answers to my questions the plot somewhat thickens. Steve Tuppen, who is a director at ISG in the UK, gave me his views.
It is important to first note ISG's figures on contract renegotiations. Steve told me that renegotiations across all types of outsourcing contracts are on the rise – as a proportion of total outsourcing contracts awarded, they are at a ten year high with 33% with Q1 2012 revealing an even higher figure of 44%.
One of the reasons, which I found interesting is that contracts are simply not delivering what they promise. Steve said: "A recent ISG survey found that on average companies report that they only receive 72% of the value from an outsourcing contract that they anticipated."
If you pay for a £100 worth of sugar you expect £100 worth of sugar not £72 worth. Obviously IT services are not commodities at the moment but they are increasingly becoming so. In the future with pay as you go models buying IT services might be like buying sugar.
As I am receiving lots of feedback for my feature from contacts I thought I would open it up, or crowdsource it you might say, and put the same 5 questions I asked them in the blog. Loading…