Windows Phone 7 - The new mobile OS contender
Windows Phone 7

Let's start with the fact that Microsoft have failed incredibly in the mobile phone market. Windows devices were poor and far behind their rivals Android and iPhone.
Windows Mobile 6.5 was a little better and enjoyed a very brief period of praise before getting pulverised once again due to Android 2.2 and iPhone iOS4.
So what has changed?? Absolutely everything. Don't make the mistake of thinking Windows Phone 7 is an update of Windows Mobile 6.5. It's a completely new operating system.
Windows Phone 7 home screen, called the Start screen, is made up of 'Tiles'. Tiles can be linked to anything including apps, features, functions and things like individual items (such as contacts, web pages, applications or media items).
Tiles can be added, rearranged or removed. The Tiles are dynamic and update in real time – for example, the tile for an email account would display the number of unread messages or a Tile could display Facebook updates.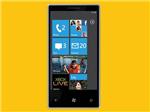 Similar to Android, Windows Phone 7 has features with 'Hubs'. Hubs combine content on the phone with online content, so if you have pictures on Facebook then your photo album will show pictures from both. Same goes for contacts, music and video (using the Zune store), Games (which integrates with Xbox LIVE), Windows Phone Marketplace, and Microsoft Office.
Microsoft thought long and hard when they developed Windows Phone 7. They needed something truly unique to bring them up against iPhone and Android.
They came up with Xbox LIVE.
Xbox Live on Windows Phone 7 will bring Console-like gaming experience to phones by displaying the user's avatar in 3D, the same way it appears on the Xbox 360.
The user will be able to interact with the avatar, view gamerscore and leaderboards, message Xbox LIVE friends, and Spotlight. Multiplayer (turn-based) gaming with live multiplayer will be released after launch.
Microsoft has unveiled more than 50 premium Windows Phone 7 Games titles that will make use of Xbox LIVE on mobile.
They have also specified that Xbox LIVE on Windows Phone 7 will not have real-time multiplayer games at launch, instead opting for turn based gaming, but is currently working on real-time multiplayer integration between Windows Phone 7 and Xbox 360 games.
These include the ability to be signed in simultaneously on the console and phone, send and receive messages between Console and Phone, unique gamer points only available by purchasing the gaming title on the phone, etc.
It's these clever additions that make Windows Phone 7 a real contender.
See also:
Other articles:
| | |
| --- | --- |
| Positives | Negatives |
| Xbox LIVE | New to market |
| Live home screen | Microsoft's track record with phones |
| Synchronisation to Windows | A lack of apps |
| Choice of phones | |
Voting in the video and the poll below will still count to the overall result.