Video review: Asus Eee Pad Transformer Tablet with keyboard dock - Autobots roll out!
If you're toying between getting a netbook or a tablet then maybe the Asus Eeepad Transformer is the device for you.
A tablet, running Google Android 3.0 Honeycomb, that connects to a keyboard docking station therefore turning it into a netbook.
It's a fantastic idea that I think most tablet developers will look at producing. Lenovo has a similar idea with the LePad and U1 dock. The difference is that the LePad switches between Windows (when docked) and Android (when loose).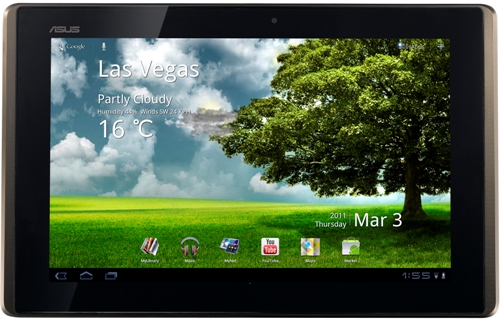 Camera / Screen
The screen is 10.1 inches, LED backlit and has a resolution of 1280×800 pixels. It also plays full 1080p HD movies.
I thought the screen was beautiful. If you watch the video you'll get a real sense of just how vibrant the colours are and how crytsal the imagery is.
Asus have really gone for quality here and that's evident in the fact that they have used Gorilla Glass for the screen.
On the back there's a 5 megapixel camera which seemed decent enough with a 1.2 megapixel on the front for video conferencing.
Tech spec
This will be the year we see most small devices packing dual core processors and the Transformer has begun the trend by arming itself with a 1GHz dual-core Nvidia Tegra 2 ARM processor. This is far more powerful than the standard processor you would get in a netbook.
It also packs an Nvidia GeForce graphics, gyroscope, compass, GPS and a choice of either 16GB or 32GB of storage with a SD card slot for extra memory.
brightcove.createExperiences();
Battery
The battery life stands at 8 hours for the tablet and an extra 8 hours held in the keyboard dock.
So when they're combined you'll get 16 hours battery life. The dock also acts as a charging station for the tablet.
Keyboard
Personally, I hate trying to touch-type on an on-screen keyboard. You have to get a good angle to type and a good viewing angle too and it never realy works out properly when typing anything more than a couple of sentences.
What I like about the Transformer is that you get a choice. If you want to watch a YouTube clip then as a tablet it's fine but a full length video is nicer using the keyboard as a stand.
If you want to type a tweet then the on-screen keyboard will suffice but if you want to reply to an email then the keyboard is a life-saver.
Both the tablet and the keyboard dock are very light so it's feasible to carry both if you need to. Otherwise, you can just decide what you need to take with you at the beginning of the day.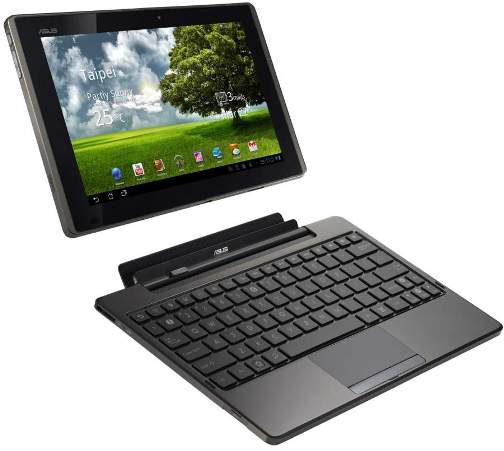 What you lose by going for this combo, compared to a netbook, are keyboard shortcuts such as Ctrl+C to copy or, as I found out, Ctrl+A to select all. I was frutstrated for a moment but the fact that you can reach over to the screen and select all using my hands makes it less annoying.
Typing on the keyboard is great but I'm still not sure if using Android 3.0 Honeycomb sits well with it, the same way an iPad doesn't. The fact is these operating systems were built for touch and not a keyboard or trackpad.
Also, unlike a netbook, you can't install full programs like Office to work on, just scaled down versions like Quick Office. This might be a temporary problem as the quality of apps improve but you'll never get the full experience with an app.
Software: Google Android Honeycomb 3.0
The first thing you need to know is that Honeycomb was built for tablets and it really feels that way when playing around with it.
It feels right, very intuitive and makes full use of the big screen.
Honeycomb will give Googlers (Android fans) lots of cool 3D-style graphics, along with the latest versions of all their apps like Google maps, Gmail etc.
The experience of using Android 3.0 is really enjoyable. There are a few things that they could probably improve on but compared to the other tablet operating systems currently on the market like iOS 4.3 and WebOS, I feel it's a clear winner.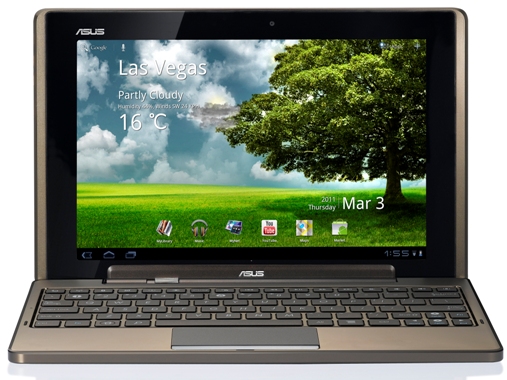 Conclusion
I really enjoyed using the Transformer. It had a great screen, good weight and a fantastic feel to it.
Currently, if I had to buy a tablet, I would give serious consideration to the Transformer over all of it's rivals purely for the fact that I can see myself using it as a netbook as well as a tablet.
There are some problems with the way it copes changing between one and the other but on the whole it's a great package.
The Eee Pad Transformer will be available from the 6th April 2011 at a price of £379 inc VAT for the pad only, or £429 for the pad and keyboard dock.