Video: Sony Ericsson Xperia Pro review - Great keyboard, nice phone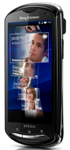 Sony Ericsson have released some heavy hitters lately with the Sony Ericsson Arc and, of course, the Sony Ericsson Xperia Play taking all the headlines.
But here we have the Sony Ericsson Xperia Pro which even though it might've slipped in under the radar, packs quality and a mighty punch.
This isn't Sony's first venture into QWERTY mobile phones. You could call the Sony Ericsson Mini Pro the Pro's predecessor and while the Mini Pro won awards, this handset takes this a couple of steps further.
Bigger screen, bigger keyboard and more features.
brightcove.createExperiences();
Keyboard
The first thing I'll say about this handset is that the keyboard is probably the best I've seen on a smartphone handset. It's incredibly comfortable and makes typing a breeze.
It flips out nicely, smooth and the keys are rubber but not soft, well spaced and backlit.
Blackberry and HP-Palm should take note. I think the landscape slide-out keyboard works better than the portrait slide-out. More space for the keys and I just think it makes it better.
The Pro is the same as the Neo but with the keyboard, much the same way the Sony Ericsson Mini Pro and the Mini worked. Pretty much the same but the Pros have a keyboard.
Dimensions / screen
The Pro is light at 140g and measures at 57mm X 120mm X 14mm. It's depth is due to the keyboard which is a shame but it's not so deep to make you feel that it is actually 'thick'.
It has a 3.7 inch touchscreen with a resolution of 854 X 480 pixels. The screen is extremely crisp and colourful.
In dark light it lit up like a firework and it was great in light too.
Software
The Pro runs on Android 2.3 Gingerbread which is the latest version of Android and, as you'd expect, has fantastic usability.
Sony have added their own skin on top of Android which works very well, much better than previous versions.
There were a few features that impressed me.
When on any of your homescreens you can pinch the screen and see all of your live widgets together and then hit the one you want to go to. It's very similar to the HTC Sense system but is still a useful and very cool addition.
Arranging your apps has been made simpler too, you can change the order of the apps by alphabet, size, date installed etc. and even a custom layout option where the app icons float and allow you to arrange them which way you see fit.
Sony Ericsson have also added folders so you can group your apps, similar to the folders on the iPhone 4.
Emails can be viewed on a dual-pane system where on the left you have your emails listed and on the right you're shown a preview of the highlighted message.
It's small additions like these that make this phone a pleasure to use.
Hardware
The Sony Ericsson Pro runs on a 1GHz Snapdragon processor with performance very slick and speedy.
Otherwise it has a 2 mega-pixel front-facing camera and an 8MP camera on the back which, with it being Sony et al, takes fantastic pictures.
To improve the quality of the images Sony has added some software called 'Exmor image enhancement' to make both videos look better. They also use software, known as the Mobile Bravia Engine, to enhance the level of details in videos and photos.
The Xperia Neo and the Xperia Pro both come with 320mb of internal memory, and includes a removable 8GB microSD card which is expandable up to 32GB.
They also both have built-in HDMI ports that allow you to output everything on the phone to your TV. You get an exact replica of your phone on the TV using the handset as a remote control and watch videos at 720p HD or browse photos.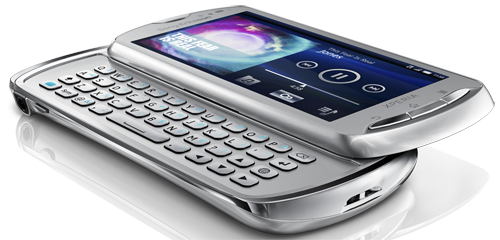 Conclusion
This is a fantastic phone, I was surprised at how much I enjoyed using it especially the keyboard.
Sony Ericsson have really done their homework here. Many of their Android handsets last year lacked one thing or the other and the skin they put on Android wasn't fully developed leaving the user experience lacking but full of potential.
If you want a QWERTY smartphone then look no further than the Xperia Pro.
It's packed with features and doesn't disappoint.
The Pro comes in black, silver or red versions.
See also: