Unveiling of the Sony Xperia Miro brought forward by Facebook users
Sony recently gave (what it called) "power to the people".
Actually, what it really did was allow people to click a button bringing the launch date for a mystery handset forward a few seconds at a time.
Granted I'm a miserable sceptic but I'm sure it will have done all the necessary calculations and worked out a new time launch date, and that time is now, I've received a press release about it and everything.
Here we have the Sony Xperia Miro.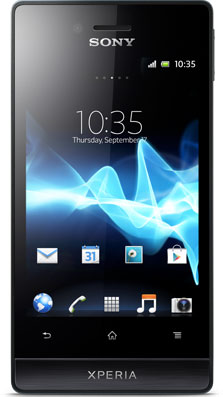 I have no idea what Miro stands for and a
Google search
left me even more confused, apparently it is a tree native to New Zealand that is used for lumber and often features in interior carpentry.
Think Sony may be on to a winner with that name, I mean, that's what everyone wants from their phone, an interesting wooden interior feature.
Anyway, the real facts:
Screen: 3.5″ 320 x 480 pixels
Under the hood: 800 MHz Qualcomm processor, 4GB RAM (just over 2GB usable)
OS: Android 4.0 (Ice Cream Sandwich)
Camera: 5MP, auto focus, digital zoom and flash. Front facing VGA cam.
Battery: Talk time up to 5hrs, standby time up to 470 hours.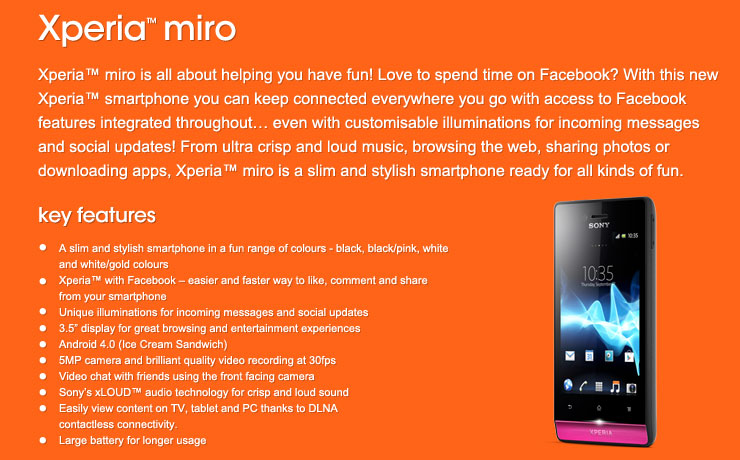 So, what's new?
Well Sony is boasting about increased Facebook integration on this handset, making it easier to like, comment and share. They have also developed a variety of illuminations for the different notifications you will receive.
Other than that, it seems to be business as usual for the latest addition to the Xperia family, with it's xLOUD technology and DLNA connectivity for effortlessly streaming media.
They also announced the Tipo, essentially a budget version with lower specs and limited features.
Both handsets will be available in a range of colours, showcasing Sony's commitment to increasing its focus on styling.
Black, black and pink, white, white and gold are the colours of choice for the Miro.
As for the Tipo, classic black, classic white, deep red and navy blue.
I have no idea what the difference between black and classic black is, maybe its old paint so they've cleverly called it "classic". Good marketing that.
Looks to me like Sony is just ironing out all the creases in its Xperia range, offering little tweaks and developments with each new handset whilst also trying to span as much of the market as possible.
That worked for Nokia………. back in the late 90s and early 00s. I can't see these handsets being snapped up by everyone but they at least have enough appeal to warrant a space in the market.