Trust IRIS: Plug & play 'professional-grade' video conferencing 
Video and web conference ability prowess (VAWCAP) is now a thing; we're all working in the 'new normal' of Zoom-type remote dial-in experiences, brought about – obviously – as a result of the global pandemic of 2020 and its aftermath.
People who want to present themselves professionally are (arguably) now realising that their (built-in) laptop webcam isn't ideally suited to delivering an enterprise-grade image and sound experience.
Although many people will return to offices and other formalised places of work, many others will now spend an increasingly large amount of time working from home. Given that the Inspect-a-Gadget elves never actually leave the test lab, this is nothing new to us, so we appreciate good quality tech when and if it comes along
All of which [factoids] leads us to Trust International B.V and its IRIS all-in-one video conference product.
Hailing from Dordrecht, Netherlands, Trust's video conference camera looks professional and weighty. Pair it up behind a large screen 16-inch laptop and you're looking at the IRIS sticking out some six-inches on either side.
Out-of-box experience
The out-of-box experience is quite daunting, this thing is big. We deliberately avoided the small manual to try and see how intuitive it was to use with zero knowledge and the experience was very good. You plug it in (into Windows 10 in our case) and self-installation is immediate and Windows finds the unit under Settings -> Camera.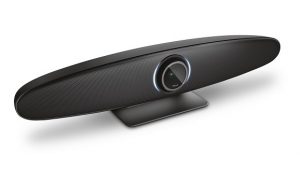 Using the Windows Camera app to play around with it, we turned off the Windows camera and switched to IRIS to get used to its zoom and pan-adjustment functions. Intuitively, we held the "1" key down on the remote control wondering if the exact position of the camera would be saved (rather like your car's radio station memory function, or a 'save favourite seat position' in a high-end car) and, lo and behold, IRIS beeped after a second and our setting was saved.
We threw the unit a bit of a curveball and plugged a professional microphone into the back of the IRIS itself in its full-sized USB slot. On a brand new test laptop, that didn't work i.e. a user will need to plug a USB microphone directly into their computer first in order for drivers to get installed and get going. Upon then subsequently plugging that microphone into the main Trust IRIS unit, it worked just fine.
Video quality outstripped the settings that Windows naturally 'thinks' you can handle so we slid the meter all the way up past the 1080 pixel resolution default. The IRIS camera can handle pretty much whatever level you set it at, but keep flicker resolution to 50 Hz and don't mess with the standard settings.
Smart software options
IRIS' high-end lens software offers various smart options:
The 'participant mode' uses the wide-angle view to fit everyone in the frame and you can engage this by simply pressing the 'group' icon on the remote.

The speaker mode automatically zooms in on the person who is speaking, the icon is just a single person on the remote, as you would expect.
A voice optimised speaker provides clear sound with the feeling of space, while the built-in noise cancelling technology prevents ambient sound from disturbing your meeting.
Trust promised us that IRIS was plug-and-play and that we'd be running within minutes… and that claim is fully validated and justified. We also put the speakers through their paces and played some seriously loud rock music to see how far they could cope. Right up to max volume on Audioslave's Show Me How To Live sounded perfect, with no distortion.
"The Covid-19 (Coronavirus) changed the way of working for millions of people across the world. This was reflected almost immediately in sales figures for webcams," said Kim Koers, marketing director at Trust. "Of course, these changes also affected our own company and taught us to explore the way people will work and communicate in the long term. It proved a logical step to design a new product for the office: IRIS. It will make video conferencing feel almost as personal as meetings previously did in conventional meeting rooms."
IRIS Specifications
ClearView technology with 4K (3840 x 2160) @60fps resolution

ClearSound noise cancelling technology with voice optimised speaker

HDR mode – Clear image in any light condition

Pan-and-tilt mechanism – Optional settings include speaker tracking where the camera automatically turns, tilts and zooms in on the person speaking.

Interactive experience with 120 degrees wide angle view and 5x digital zoom.

Integrated microphone with pick up range up to 5 meters
Overall, we enjoyed this product and deliberately fixed a couple of Zoom calls to showboat and VAWCAP (remember what we said at the start?) and even used the 'flip mirror image' function to mess-up the minds of a few people we spoke to.
Just one warning, the Trust IRIS camera is extremely high-quality, so if you look tired… then this will make you look more tired. So, get a good night's sleep if you want to be a future-focused webchat guru is all we would say.
Trust International B.V. was founded in 1983 and is active on a global scale through four brands: Trust, Trust Gaming, Trust Mobile and Trust Smart Home. From 2021 onwards, Trust will also focus on the business market.
IRIS is available now on Amazon for £719 at the time of writing.