TomTom's alive! Satnav is blessed
If you've ever found yourself saying "That blessed satnav is doing my head in", you're worst fears are going to be realised. The shouty, beardy man himself, Brian Blessed, is being recorded by TomTom as its latest celebrity satnav turn.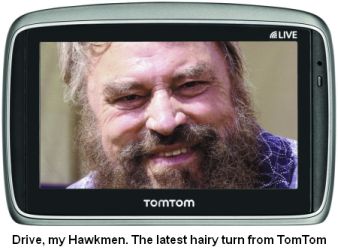 Following a dedicated Facebook campaign, the veteran actor/adventurer's fans managed to gain the necessary 25,000 votes to persuade TomTom to add him to the list of stars that includes Sean Connery, Homer Simpson, and Yoda or Darth Vader from Star Wars.
He entered the spotlight in Z-Cars, a 1960s cop soap, so it seems fitting that at this later stage of his career he should be back at the wheel directing the traffic.
It may be preferable to the somnolent tones of the standard voices but the novelty of being shouted at by Prince Vultan the Hawkman could get a bit wearing after a while as the campaign's
own video
pointed out (you
must
watch it to the end).
It was rather nice of the man himself to provide a typically understated thank-you video response: