Christmas is just a couple of days away and, weather permitting, my nephew will be well on his way to DisneyWorld to play on his Nintendo DSi in sunnier climes. So now I can reveal my masterplan behind his Christmas present.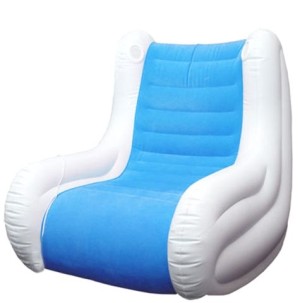 Like a lot of kids of his age, he lives in a digital dreamworld. Perched on his bed, thankfully with schoolfriends, he whiles away the hours on his Wii, Xbox, Playstation or a host of handhelds. So one of the problems is what to give someone who appears to have everything. Then I found the MP3 Rocking Chair, an inflatable seat with inbuilt stereo speakers either side of the head rest. The PVC chair also has a thoughtfully designed flock-lined seating pad to stop sweating and those farty squeaks that accompany both leather and PVC seats. Thereby stopping a source of vulgar amusement.
Hardly a criticism but more of an observation, the chair has a 3.5 jack lead for an MP3 player and a pocket to place it in. Fair enough, it's ideal for that purpose but it is also good to plug in a Nintendo DS to get stereo sound and the lead is a tad short for an active child. The speaker quality is not the best but perfectly adequate for such use. But back to the plan.
This is the cunning plot. He has a relatively sedentary lifestyle so his parents have hidden the foot pump. An hour or so of blowing up the rocking chair will give him some cardiovascular exercise. The flaw in this is that he's a bit of an entrepreneur. I can see him charging his friends so many lungfuls of air for five minutes of playtime on his DSi – meanwhile he'll continue to perch on the end of his bed with his other games machines until the seat is fully inflated.
The only other concern I have is that kids are active and pretty spiky creatures. How will the chair stand up to the rigours of being jumped on, kicked around the room and generally prodded and poked. I know that when I visit I'm subjected to similar treatment and it does take its toll on me. Unlike myself, the MP3 chair comes with a puncture repair kit. OK, it's just one relatively small patch so maybe a repair kit will be a suitable birthday gift. Sorted.
The MP3 Rocking Chair comes from Sound Asleep for £30 but is also available from Argos, Asda, Tesco and other retail outlets.