Spotify has gone to version 0.4.3. Ooh, exciting.
Well, actually, ye of little faith, it is pretty good. The streaming music player for desktop and mobile has rolled out two big new features for PC and Mac that make it worth the upgrade.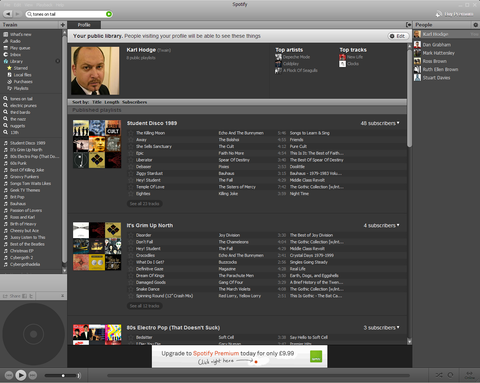 First up, you can now hook Spotify into Facebook, adding Facebook friends who've done the same. This enables you to publish playlists and tunes to Facebook and send individual songs directly to friends. You also now have a profile page within the application that's visible to said friends. All your public playlists are visible and friends can choose to subscribe to them.
Second biggy: Spotify now functions as a local music player. This is a feature I've been waiting for. At start-up, you can choose to import your iTunes or Windows Media Player libraries, update and clean-up data using Gracenote and add them to Spotify. It'll import any stray MP3s on your machine too. Once in your Spotify library, local audio files are included in any search you make. One caveat – you can share iTunes playlists across Spotify, but only if the tunes on the list are available on the service. You can't stream your own MP3s to friends. Bah! Pesky copyright laws…
As a fan of both Spotify Mobile and Spotify, I'm excited to have these new features, but a bit disappointed that there's still no facility to publish playlists to a central search service. Support for Facebook and Twitter publishing is built in, but there's no love for
sharemyplaylists.com
– a searchable playlist database.
Ah well – it's probably only a matter of time. If you're a Spotify user, you can upgrade now by downloading a new version of the client from
www.spotify.com