Sony Ericsson X10 Mini review - I love this little b*****d!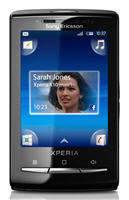 Let me start by saying that before I received the Sony Ericsson X10 Xperia Mini, I thought I'd hate the diddyness of the phone. I thought about how the keypad would be too small and that I would find it annoying. How wrong was I? Very very wrong.
I'm not saying that my opinion has completely turned around but, this is a fantastically simple phone to use and it's tiny!! In a good way. I think it's probably the smallest smartphone ever.
The cheapest contract I can see is for £15-a-month, but on a 24-month contract, and you can buy it SIM-free and unlocked for around £200.
Tinchy Android
The Mini is the little brother to Sony Ericsson's first Android phone, the Xperia X10. The Xperia X10 was, for me, a bit too big and I just didn't get on with Timescape, as you'll find out later.
While the Mini also has Timescape and Android 1.6, it's due for an upgrade to Android 2.1 soon, as is the Xperia X10, and has a simplified user interface to suit the 2.5-inch screen.
The homescreen has four shortcuts that can be changed to whatever you want (bookmark, app etc.). You can swipe to the other screens where you can load widgets as with any Android.
The qwerty keyboard is replaced with an alphanumeric pad which is what I tend to use anyway. The keys are nice, big and responsive. The only negativeis that you can't type in landscape.
If you want a full keyboard then the Mini Pro is what you'll want to get with a slide out that is a great size.
The Mini Pro is pretty much the same phone but with the slide out full qwerty and the inability to change the back cover for different colours.
brightcove.createExperiences();
Timescape is a waste of time
I've said it before and the Mini is no exception. Timescape is just bad.
It's meant to bring all your missed calls, texts and Twitter and Facebook updates into one place that you can flick through.
Sadly it doesn't show all the text from the update and open into the website instead of the app. It's not a big deal as there are so many amazing Twitter and Facebook apps on Android that you can download.
Mini in size mighty in expandable memory
The Mini has WiFi and A-GPS as well as HSPA but only 128MB of internal storage, but don't cry it can tale microSD cards of up to 16GB. It should come with a 2GB card anyway so.
It has a 5MP camera, which is far better than most 5MP cameras in other phones because of the quality of the Sony Ericsson lense.
Conclusion
As the headline alludes to. I love this phone.
I'm a massive fan of Android and this is a simple, small phone that does what you need it to do. The interface is simple, it has a cool factor and has a very good camera.
I like the fact that Sony Ericsson has done something a bit different by making it smaller and that they have made a smartphone a lot simpler by adding things like the shortcuts on the homepage etc.
The negatives aren't a big deal, having used this phone for a week or so, I'm already bidding for the Mini Pro on eBay for my mum.