Samsung launches the Galaxy S4
Last night in a highly anticipated launch in New York, Samsung unveiled its latest flagship device, the Samsung Galaxy S4, which many are saying could be the iPhone's closest competitor yet.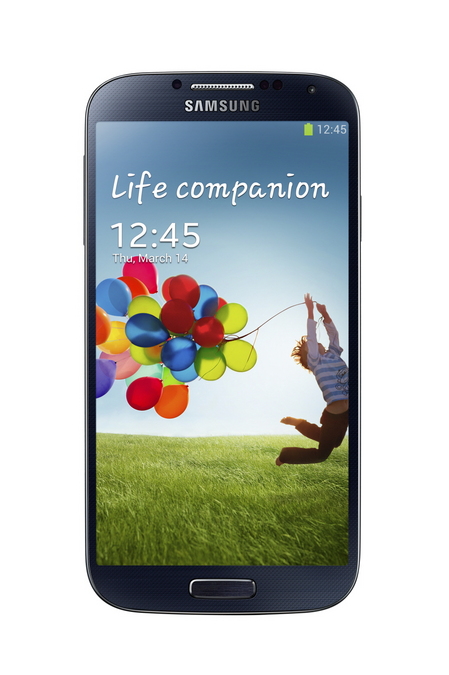 The device is running Android Jelly Bean and will offer peace of mind through its Knox security software.
The new device is closing in on the territory of the Galaxy Note II, with a 5-inch Full HD Super AMOLED screen.
While the phone has joined the giant screen trend, it has not sacrificed this on the scales, weighing a mere 130g and with dimensions of 136.6 x 69.8 x 7.9mm.
It's ready for 4G and EE have announced that it will be offering the device on its super-fast 4G network. It also holds a whopping 13MP camera with 4128 x 3096 pixels and an LED flash.

The device runs on an Exynos 5 Octa 5410 chipset, and features a Quad-core 1.6 GHz Cortex-A15 & quad-core 1.2 GHz Cortex-A7
Smart Scroll
One of the big rumours around this device was its ability to recognise your eye movements and scroll through the page accordingly. This Smart Scroll feature was indeed announced last night, the software tracks eyes and wrist movement in order to scroll through emails. Additionally its Smart Pause functionality works in a similar way: watch a video and take your eyes away from the screen and it will recognise this and pause the content.
"The debut of nifty eye motion-sensitive controls to allow users to pause video and scroll through pages using eye movements alone is smart, and for commuters crammed in trains – or just those who love a bit of futuristic tech that makes their lives easier – this novel feature will really help the Galaxy S4 to stand out," said Ernest Doku, Telecoms from uSwitch.com
Is it nifty or just a consumer gimmick? And more importantly, will it truly work? We will have to wait to get our hands on a review unit until we can be sure.
Translator tool
Business travellers will find the translator function useful. Samsung claim that its "S Translator" feature will understand and translate nine languages including Brazilian, Chinese, French, German, Italian, Japanese, Latin American Spanish and Portuguese. This feature can translate from speech-to-text and text-to-speech, while also recognising 3,000 phrases stored in the phone, in case you are without data connectivity.
Added security
Businesses will also welcome the new built in Knox software to tackle the poor security record of the Android OS.
Knox provides securing booting when the S4 starts up, enhancements to Android that separate data from applications and Tima, a technology Samsung said offers continuous monitoring of the system.
Knox also allows the IT department to separate work from personal use. The S4 presents the user with a different environment in work mode, which Samsung claims is separate from the personal use environment. It offers an encrypted file system, virtual private network and mobile device management support.
Speaking to Computer Weekly, Tony Cripps, devices and platforms analyst at Ovum noted that, with Knox, Samsung is offering enterprise-grade mobile security, which makes it an alternative to Blackberry Enterprise Server.
"Samsung can also take advantage of any reluctance by businesses to deploy applications and data on Apple iOS devices," Cripps said.
While the hype over recent innovative smartphones such as the BlackBerry Z10 and the Nokia Lumia 920, may have died down. It seems that excitement of the latest Galaxy may have continued the two-horse race between Samsung and Apple. But will the two companies put their patent battles behind them? I doubt it – it's just too easy to throw money around in the court room, than to spend it on actual innovation.
Available in white and black, the devices should be entering the market at the end of April.