Review: The LG Optimus One (P-500) - Could Android 2.3 Come To The Rescue?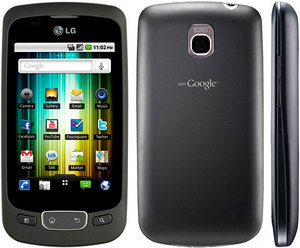 The LG Optimus One has received mixed reviews since it's release four months ago and now it has the opportunity to address them.
When it was first released the Optimus' main attraction was that it made Android 2.2 available on a mid-ranged smart phone at a low price.
Funnily however, most of the criticisms that have been levelled at the p-500 are about Android 2.2 and what LG have done with it; chopping and changing, adding their own tweaks and 'styling'.
The announcement of Android 2.3 (Gingerbread) should be seen as an opportunity for LG to tackle and improve some of the poorer areas that have been identified on this phone.
LG gave Optimus owners a shock after initially stating that the upgrade to Android 2.3 would not be made available on their handsets.
Thankfully, they then performed a U-turn within days and announced that the update would be made available.
This news will surely have been much to the delight of many Optimus owners out there who are now eagerly anticipating the release of Android 2.3.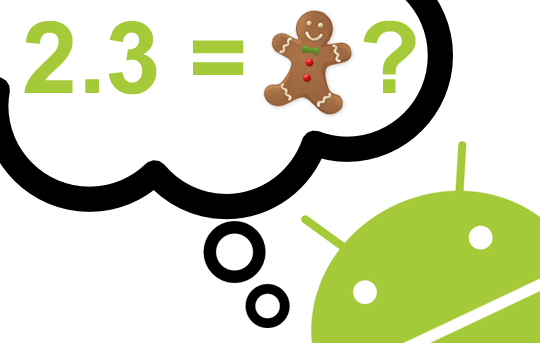 There is no doubting that the OS upgrade could improve the phone no end but there is nothing it can do to help with the look of the Optimus One.
Looks
It looks as if it has been made from an old car interior and had some shiny chrome trim added to break up the bleakness.
My mum always taught me not to judge a book by it's cover but when a phone looks like this you just can't help yourself. Sorry mum.
To be fair, the LG could be uglier. It has managed to score some points for the simplistic design and layout of the volume toggle, headphone jack, micro usb slot and power button, which are all seamlessly included in the chrome trim.
The home, return, search and menu buttons below the screen are all nicely sized and spaced. They also produce a gentle glow when pressed.
The Optimus is the perfect size to be held comfortably in one hand and the cover, despite it's unappealing looks, provides a nice rubbery grip.
Although, the rubbery back of the phone has also been branded with the Google logo, like a piece of cattle, the Google services on this phone are actually one of the best things about it.
Usability and OS
Google Maps and loads of other Google apps are either preinstalled or available for download in the Android store.
Moving onto the looks of the menu and home screen, things improve slightly but this is where Android 2.3 can make all the difference.
LG decided to make their own default theme and menu style, which does not seem to have gone down well.
In my opinion it is not very consistent, it looks like menus and folder icons have been taken from other phones and just thrown together.
The home screen features a curved dock at the bottom, filled with shortcuts to contacts, phone, messaging and the browser, though they can be changed.
In what I deem a show of extravagance, the P-500 can have five or seven home screens, depending on the amount of widgets you would like to have easy access too.
This combined with the categories of menu items and switches in the notification bar make me feel as if there is too much going on and too much choice.
I don't want to have to make 39 decisions in order to put the phone on silent before sneakily playing games under the table.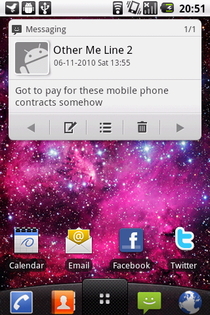 A messaging widget created by LG will not get the recognition it deserves if people select seven home screens because they will most likely have used up all of their energy sliding from page to page in order to find it.
If they do manage to find it, they will see the first few words of their most recent texts. This is handy for those who need constant reminders but not so handy if your boss picks up your phone to see you've applied for a new job.
LG could also scrap their much-criticised keyboard when Android 2.3 is released.
The keyboard appears as a normal phones keypad yet the buttons are still small and fiddly on the 3.2inch screen. The several shades of grey that are used don't make the keyboard any more appealing.
It is quite simple to change the keyboard to QWERTY but this only really improves typeability (I know that's not a real word but let's move swiftly on) if you tip the phone so it switches to landscape.
Just to balance out some of this negativity there is one positive. A word predictor, much like the one Apple have installed in the iPhones
A suggestion pops up in a small grey box midway through typing a word, it can then be selected or ignored. This saves a few seconds and in a society where time is said to be money, this surely means each time you use it your gaining at least a few shiny pennies.
Screen and camera
The screen, camera and media capabilities of the LG will not be affected by the 2.3 update but it is still worth looking at them.
To mix things up this time I'll start with the negative.
The low screen resolution (320×480-pixel screen) means the Optimus One is incompatible with Flash Player 10, so no BBC Iplayer.
Either cleverly or luckily, I'm undecided; they have saved their blushes somewhat with the preinstalled Youtube app.
Astonishingly, the small and low-resolution screen does not ruin internet browsing. Zooming in and out is easy, all that is required is a double tap or pinch.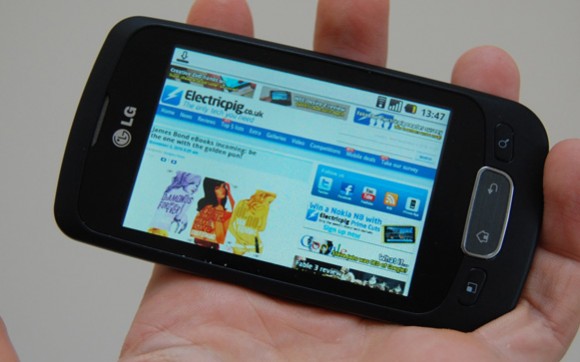 The Wi-Fi and HSDPA also support fast 3G downloads.
The 3MP camera sounds bad by todays standards but it is clear and bright. Nevertheless, you can't have it all, everything seems quite soft and any slight movement can cause motion blur.
There is no flash but there are is a vast selection of effects and filters along with a face tracking tool which does what it says on the tin.
The camera can also take videos, with three resolutions to choose from – 640×480, 320×240 and 176×144. Clips emerge as 3GP files and play to a decent standard on the PC or Mac, although the frame rate isn't particularly high.
A little feature in the video recorder that you don't see very often is the ability to mute sound during recording.
This could come in handy if you are the sort of person who is desperate for Youtube views.
You could record a video of your fluffy little Labradoodle barking and then later dub over the video and make it look as if it was speaking like a human.
I'm no expert on the art of Youtube videos or how to get views but I imagine that's the sort of thing that happens…
Adding media to the Optimus One is just a case of dragging and dropping, once it's connected to your computer of course. A 2GB microSD is included with the phone.
The LG allows you to not only easily share photos, videos and music on Facebook and Twitter, it also allows you to share your contact information and friends display pictures in the phones contacts application.
Battery and call quality
Two quick final points to make are about the battery life and call quality.
The battery will last for two days of moderate usage thanks to clever little power saving tricks. An example of one is that the screen turns off when you press your ear to it during a call and turns back on automatically when you finish your call, all thanks to a friendly little proximity sensor.
The call quality is nothing to write home about, the sound is crisp and clear and the speakerphone is a long way from sounding tinny.
Verdict
For all of the good features on this phone there is at least one major flaw that either ruins or takes a lot away from all the hard work that has gone into creating this device.
The Android 2.3 (Gingerbread) update has the potential to turn this phone from a respectable cheap handset to very good cheap handset. That's providing LG swallow their pride and stop interfering with the Androids OS.
However, if LG stick to their guns and decide to try and put their own stamp on the 2.3 update then Optimus owners and those considering buying one, will be left disappointed all over again.